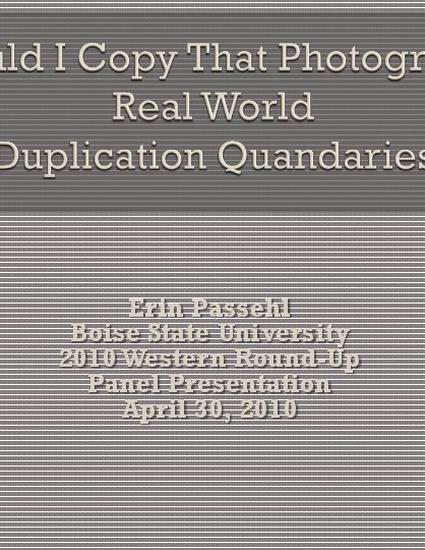 Presentation
"Should I Copy That Photograph?"Real-world Duplication Quandaries
Western Round-Up (A Joint Conference of the Conference of Inter-Mountain Archivists, Northwest Archivists, Society of California Archivists, and Society of Rocky Mountain Archivists) (2010)
Abstract
Archivists grapple with hard decisions about reproducing images every day. Aside from the copyright gray zone that so many photographs fall under, there are also issues of professional courtesy, digitization, cultural sensitivity, political pressures, and commercial use. In this panel four archivists discuss some of the more difficult reproduction questions, and resultant solutions, they have encountered. These questions will resonate to similar situations that other archivists have encountered and provide some measure of clarity for dealing with difficult reproduction questions. The panel will also be open to questions and situations presented by the audience.
Keywords
photographs,
copyright,
digital collections,
archives,
special collections,
manuscripts,
reproductions
Publication Date
April 30, 2010
Citation Information
Erin Passehl. ""Should I Copy That Photograph?"Real-world Duplication Quandaries"
Western Round-Up (A Joint Conference of the Conference of Inter-Mountain Archivists, Northwest Archivists, Society of California Archivists, and Society of Rocky Mountain Archivists)
(2010)
Available at: http://works.bepress.com/erin_passehl/7/