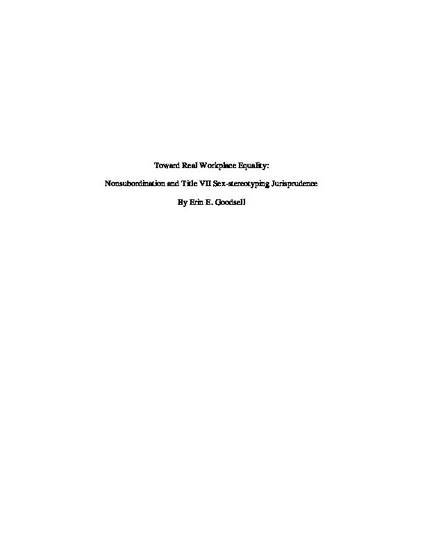 Unpublished Paper
Toward Real Workplace Equality: Nonsubordination and Title VII Sex-stereotyping Jurisprudence
ExpressO (2007)
Abstract
This paper seeks to resolve a problem in federal anti-discrimination jurisprudence. The Supreme Court has held that plaintiffs may have a Title VII employment discrimination claim where they have been discriminated against based on an "impermissible sex stereotype," but the lower federal courts, lacking a clear definition of what an "impermissible sex stereotype" may be, are inconsistent in their application of the sex-stereotyping doctrine. I argue that applying the feminist principle of nonsubordination, which examines whether legal rules or cultural practices serve to subordinate women to men and seeks to change those rules or practices that do, could help to guide courts in their evaluation of sex-stereotyping claims. This standard would also protect individuals, particularly those who do not conform to gender norms, from employment discrimination, and ultimately aims to remedy not only discriminatory employment practices but also to transform the social and cultural norms that underlie those practices.
Publication Date
September 28, 2007
Citation Information
Erin E. Goodsell. "Toward Real Workplace Equality: Nonsubordination and Title VII Sex-stereotyping Jurisprudence"
ExpressO
(2007)
Available at: http://works.bepress.com/erin_goodsell/1/