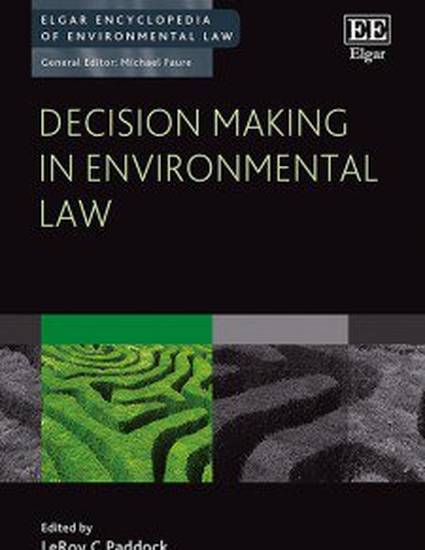 Contribution to Book
Global Environmental Constitutionalism: A Rights-Based Primer for Effective Strategies
Decision Making in Environmental Law (2016)
Abstract
The constitutions of about three-quarters of nations worldwide address environmental matters in some fashion. The content of these constitutional provisions vary widely; some include a commitment to environmental stewardship, while others recognize a basic right to a quality environment or ensure a right to information, participation, and justice in environmental matters. This chapter provides an introduction to and overview of the field of global environmental constitutionalism. It surveys the variety of environmental provisions in national and subnational constitutions and examines several key challenges in implementation and adjudication. Ultimately, constitutional law fosters a comprehensive and holistic approach to the challenge of environmental protection because it facilitates a wide range of legal tools and because constitutionalism is closely tied with the basic principles of a society and the legitimacy of the sovereign in decisionmaking.
Keywords
environmental rights,
human rights,
environmental constitutionalism,
judiciary and environment,
environmental law
Editor
LeRoy C. Paddock, Robert L. Glicksman, and Nicholas S. Bryner
Series
Elgar Encyclopedia of Environmental Law
Citation Information
Erin Daly and James R. May. "Global Environmental Constitutionalism: A Rights-Based Primer for Effective Strategies"
Decision Making in Environmental Law
Vol. 2 (2016) p. 21
Available at: http://works.bepress.com/erin_daly/47/