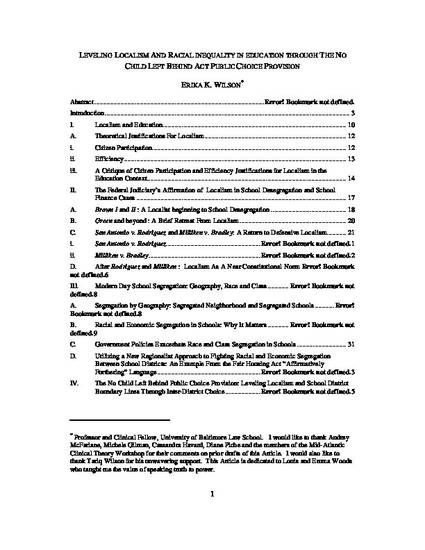 Unpublished Paper
Leveling Localism and Racial Inequality in Education Through the No Child Left Behind Act Public Choice Provision
ExpressO (2010)
Abstract
While much attention is paid to issues of segregation and inequality in education, little attention is paid to the role that school district boundary lines play in creating segregation and inequality in education. Living on one side of a school district boundary line rather than another can mean the difference between being able to attend a high achieving resource enriched school or having to attend a low achieving, resource deprived school. Nevertheless, the federal judiciary--the institution looked upon to remedy issues of school segregation and inequality--is unable to adequately remedy segregation and inequality between school districts because it evidences a doctrinal preference for localism in its school equity jurisprudence. A new remedial paradigm that embraces regionalism as an antidote to the localism found in the federal judiciary's school equity jurisprudence is necessary. The No Child Left Behind Act ("NCLB") public choice provision—which allows students to transfer from failing to non-failing schools—has the potential to fulfill that remedial paradigm if, when amended during its next reauthorization, it adopts a statutory framework similar to the framework found in portions of the Fair Housing Act ("FHA") which embrace regionalism and citizen mobility as a means of facilitating integration and equality.
Publication Date
March 24, 2010
Citation Information
Erika K. Wilson. "Leveling Localism and Racial Inequality in Education Through the No Child Left Behind Act Public Choice Provision"
ExpressO
(2010)
Available at: http://works.bepress.com/erika_wilson/1/