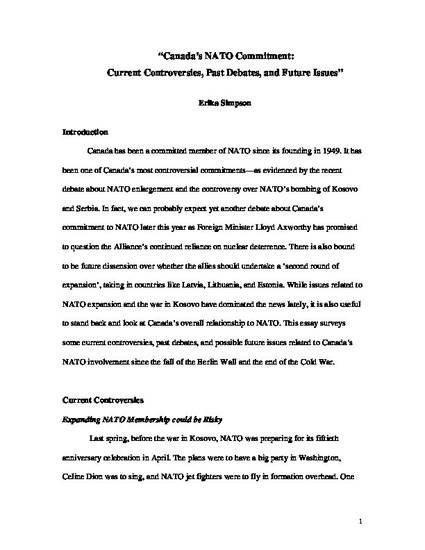 Article
Canada's NATO Commitment: Current Controversies, Past Debates, and Future Issues
Behind the Headlines
Publication Date
1-1-2000
Abstract
Although Canada has been a committed member of the North Atlantic Treaty Organization (NATO) since the alliance was founded in 1949, it has not greeted all NATO decisions with unalloyed pleasure, as the recent debate about enlargement and the controversy over NATO bombing of Kosovo and Serbia will attest. And we can probably expect yet another debate about Canada's commitment toNATO later this year because the foreign minister, Lloyd Axworthy, has promised to question NATO'S continued reliance on nuclear deterrence. There is also bound to be future dissension over whether the Allies should embrace such countries as Latvia, Lithuania, and Estonia in a `second round of expansion.' While issues related to NATO expansion and the war in Kosovo have dominated the news lately, it might be useful to stand back and look at some past debates and possible future issues aroundCanada's NATO involvement since the fall of the Berlin Wall and the end of the cold war.
Citation Information
Erika Simpson. "Canada's NATO Commitment: Current Controversies, Past Debates, and Future Issues"
Behind the Headlines
Vol. 57 Iss. 2/3 (2000) p. 20 - 27
Available at: http://works.bepress.com/erika_simpson/44/