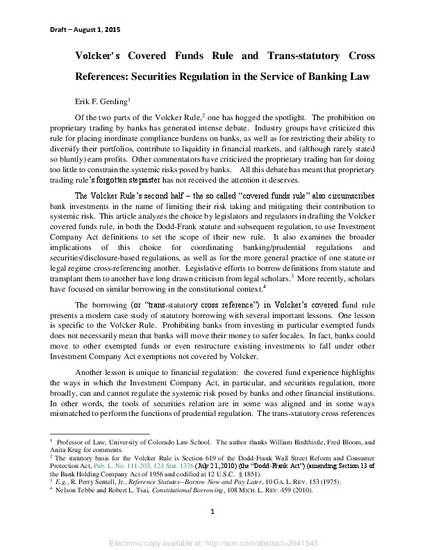 Article
Volcker's Covered Funds Rule and Trans-Statutory Cross References: Securities Regulation in the Service of Banking Law
Capital Markets Law Journal (2015)
Abstract
The Volcker Rule's "covered funds rule" circumscribes bank investments and involvement in certain investment funds to limit bank risk taking and mitigate systemic risk. This article analyzes the choice by legislators and regulators in drafting the Volcker covered funds rule to use Investment Company Act definitions to set the scope of their new rule. It also examines the broader implications of this choice for coordinating banking/prudential regulations and securities/disclosure-based regulations, as well as for the more general practice of one statute or legal regime cross-referencing another. 
By using a securities law to define the scope of a banking law, the covered funds rule effectively transfers critical policymaking functions from one group of agencies (banking regulators) to another (the SEC). This has potentially profound implications given the differing statutory missions, cultures, and personnel of those agencies. It also has political ramifications given the different interest groups and institutional pressure points affecting securities versus banking regulators.
Keywords
Volcker Rule,
securities regulation,
hedge funds,
bank regulation
Citation Information
Erik F. Gerding. "Volcker's Covered Funds Rule and Trans-Statutory Cross References: Securities Regulation in the Service of Banking Law"
Capital Markets Law Journal
Vol. 10 (2015)
Available at: http://works.bepress.com/erik_gerding/18/