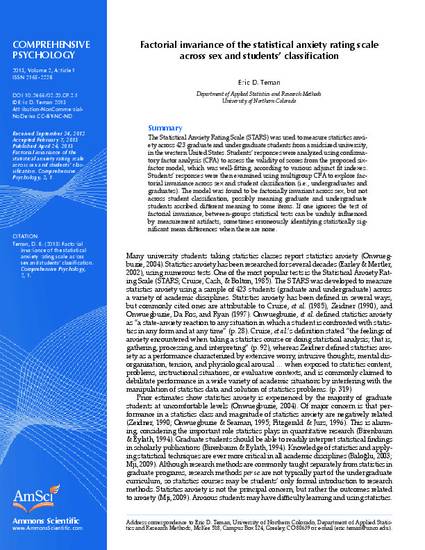 Article
Factorial Invariance of the Statistical Anxiety Rating Scale across Sex and Students' Classification
Comprehensive Psychology (2013)
Abstract
The Statistical Anxiety Rating Scale (STARS) was used to measure statistics anxiety across 423 graduate and undergraduate students from a midsized university, in the western United States. Students' responses were analyzed using confirmatory factor analysis (CFA) to assess the validity of scores from the proposed six factor model, which was well-fitting, according to various adjunct fi t indexes. Students' responses were then examined using multigroup CFA to explore factorial invariance across sex and student classification (i.e., undergraduates and graduates). The model was found to be factorially invariant across sex, but not across student classification, possibly meaning graduate and undergraduate students ascribed different meaning to some items. If one ignores the test of factorial invariance, between-groups statistical tests can be unduly influenced by measurement artifacts, sometimes erroneously identifying statistically significant mean differences when there are none.
Keywords
confirmatory factor analysis,
measurement invariance,
statistics anxiety rating scale
Publication Date
April 24, 2013
Citation Information
Eric D Teman. "Factorial Invariance of the Statistical Anxiety Rating Scale across Sex and Students' Classification"
Comprehensive Psychology
Vol. 2 Iss. 1 (2013)
Available at: http://works.bepress.com/ericteman/1/