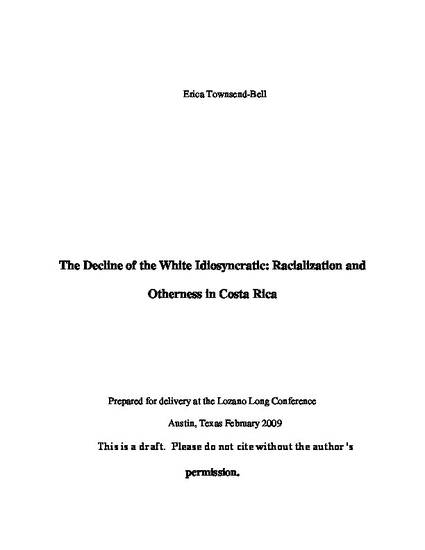 Presentation
The Decline of the White Idiosyncratic: Racialization and Otherness in Costa Rica
Lozano Long Conference
Document Type
Conference Paper
Publication Date
2-1-2009
Conference Location
Austin, Texas
Abstract
This paper employs comparative historical analysis to trace the development of shifting notions of otherness and changes in the racialization of Nicas and Afro-Costa Ricans over time. I find that both Afro-Costarrican and Nicaraguan minority groups have been central to the national identity, albeit in distinct ways. Racialized comparisons between "dark-skinned" Nicaraguans and "white" Costa Ricans, has created a third way in the Costa Rican context, where traditionally mestizo Nicaraguan immigrants become darkened or "blackened" and Afro-Costa Ricans are simultaneously privileged and disadvantaged as localized and preferred others.
Journal Article Version
Author's Original
Rights
Copyright © 2009 Erica Townsend-Bell
Citation Information
Erica Townsend-Bell. "The Decline of the White Idiosyncratic: Racialization and Otherness in Costa Rica"
Lozano Long Conference
(2009)
Available at: http://works.bepress.com/erica_townsend_bell/1/