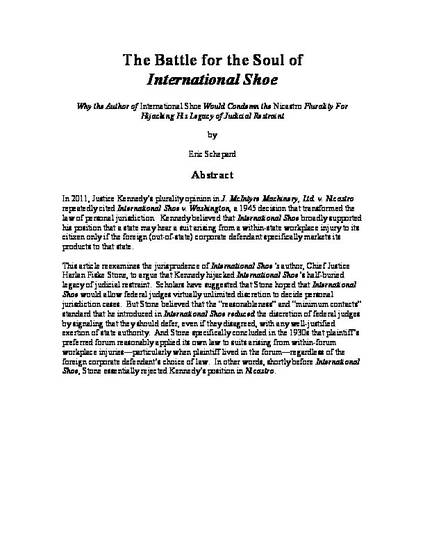 Unpublished Paper
The Battle for the Soul of International Shoe
ExpressO (2013)
Abstract
In 2011, Justice Kennedy's plurality opinion in J. McIntyre Machinery, Ltd. v. Nicastro repeatedly cited International Shoe v. Washington, a 1945 decision that transformed the law of personal jurisdiction. Kennedy believed that International Shoe broadly supported his position that a state may hear a suit arising from a within-state workplace injury to its citizen only if the foreign (out-of-state) corporate defendant specifically markets its products to that state. This article reexamines the jurisprudence of International Shoe's author, Chief Justice Harlan Fiske Stone, to argue that Kennedy hijacked International Shoe's half-buried legacy of judicial restraint. Scholars have suggested that Stone hoped that International Shoe would allow federal judges virtually unlimited discretion to decide personal jurisdiction cases. But Stone believed that the "reasonableness" and "minimum contacts" standard that he introduced in International Shoe reduced the discretion of federal judges by signaling that they should defer, even if they disagreed, with any well-justified exertion of state authority. And Stone specifically concluded in the 1930s that plaintiff's preferred forum reasonably applied its own law to suits arising from within-forum workplace injuries—particularly when plaintiff lived in the forum—regardless of the foreign corporate defendant's choice of law. In other words, shortly before International Shoe, Stone essentially rejected Kennedy's position in Nicastro.
Keywords
personal jurisdiction,
conflicts of law,
choice of law,
14th Amendment
Publication Date
August 14, 2013
Citation Information
Eric H Schepard. "The Battle for the Soul of International Shoe"
ExpressO
(2013)
Available at: http://works.bepress.com/eric_schepard/19/