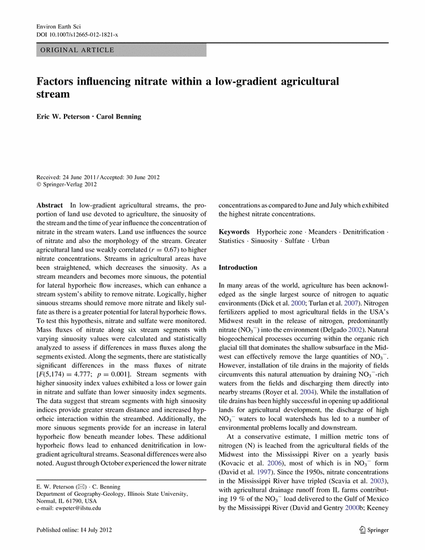 Article
Factors influencing nitrate within a low-gradient agricultural stream
Environmental Earth Sciences (2013)
Abstract
In low-gradient agricultural streams, the proportion of land use devoted to agriculture, the sinuosity of the stream and the time of year influence the concentration of nitrate in the stream waters. Land use influences the source of nitrate and also the morphology of the stream. Greater agricultural land use weakly correlated (r = 0.67) to higher nitrate concentrations. Streams in agricultural areas have been straightened, which decreases the sinuosity. As a stream meanders and becomes more sinuous, the potential for lateral hyporheic flow increases, which can enhance a stream system's ability to remove nitrate. Logically, higher sinuous streams should remove more nitrate and likely sulfate as there is a greater potential for lateral hyporheic flows. To test this hypothesis, nitrate and sulfate were monitored. Mass fluxes of nitrate along six stream segments with varying sinuosity values were calculated and statistically analyzed to assess if differences in mass fluxes along the segments existed. Along the segments, there are statistically significant differences in the mass fluxes of nitrate [F(5,174) = 4.777; p = 0.001]. Stream segments with higher sinuosity index values exhibited a loss or lower gain in nitrate and sulfate than lower sinuosity index segments. The data suggest that stream segments with high sinuosity indices provide greater stream distance and increased hyporheic interaction within the streambed. Additionally, the more sinuous segments provide for an increase in lateral hyporheic flow beneath meander lobes. These additional hyporheic flows lead to enhanced denitrification in low-gradient agricultural streams. Seasonal differences were also noted. August through October experienced the lower nitrate concentrations as compared to June and July which exhibited the highest nitrate concentrations.
Keywords
Hyporheic zone,
Meanders,
Denitrification,
Statistics,
Sinuosity,
Sulfate,
Urban
Publication Date
March, 2013
DOI
10.1007/s12665-012-1821-x
Citation Information
Peterson, E. W., and Benning, C., 2013, Factors influencing nitrate within a low-gradient agricultural stream: Environmental Earth Sciences, v. 68, no. 5, p. 1233-1245, doi:10.1007/s12665-012-1821-x.