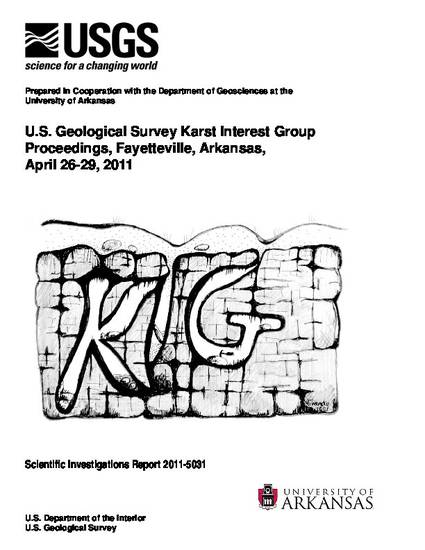 Contribution to Book
Temporal Stability of Cave Sediments
U.S. Geological Survey Karst Interest Group Proceedings, Fayetteville, Arkansas (April 26-29, 2011) (2011)
Abstract
Sediments within cave systems have been examined concerning source, mineralogy, and transport potential. While sediments in the thalweg are very mobile, the entrainment potential of the sediment piles has not been examined. Over the course of nine months, sediment piles in a Missouri cave were sampled to determine the stability of the piles and of the sediment properties. Sediment cores were analyzed for dry bulk density (
ρ
d
), porosity (
n
), volumetric wetness (
θ
), organic content (
O.C.
), hydraulic conductivity (K), and sediment particle size distribution. Observational evidence, deposited sediment and deformation of previous sample holes, suggests that despite elevated flows, the sediment piles were not mobilized over the course of the nine months. Physical properties remained constant at each location, but varied among the various locations. Dry bulk density values ranged between 1.2 g/cm
3
to 1.5 g/cm
3
. Porosity values were 0.42 to 0.57. Volumetric wetness showed similar variation ranging from 0.38 to 0.53. Organic content had the highest variation among the parameters ranging from 1.24 percent at one site to 4.84 percent at another. Hydraulic conductivity ranged from 2.13×10
-7
m/s to 3.10×10
-7
m/s.
Keywords
Karst,
Sediments,
Missouri USA
Publisher
United States Geological Survey
Citation Information
Kevin Hughes and Eric Wade Peterson. "Temporal Stability of Cave Sediments"
U.S. Geological Survey Karst Interest Group Proceedings, Fayetteville, Arkansas (April 26-29, 2011)
(2011) p. 57 - 65
Available at: http://works.bepress.com/eric_peterson/22/