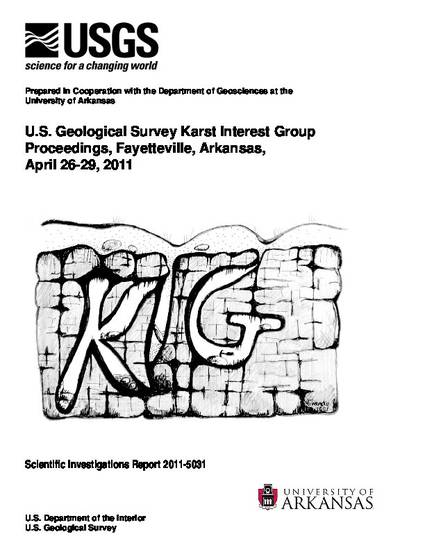 Contribution to Book
Using GIS to identify cave levels and discern the speleogenesis of the Carter Caves karst area, Kentucky
U.S. Geological Survey Karst Interest Group Proceedings, Fayetteville, Arkansas (April 26-29, 2011) (2011)
Abstract
Cave level delineation often yields important insight into the speleogenetic history of a karst system.Various workers in the Mammoth Cave System (MCS) and in the caves of the Cumberland Plateau Karst(CPK) have linked cave level development in those karst systems with the Pleistocene evolution of theOhio River. This research has shown that speleogenesis was closely related to the base level changesdriven by changes in global climate. The Carter Caves Karst (CCK) in northeastern Kentucky has beenpoorly studied relative to the MCS to the west and the CPK karst to the east. Previously, no attempt hadbeen made to delineate speleogenetic levels in the CCK and relate them to the evolution of the OhioRiver.In an attempt to understand cave level development in CCK we compiled cave entrance elevationsand locations. The CCK system is a fluviokarst typical of many karst systems formed in the Paleozoiccarbonates of the temperate mid-continent of North America. The CCK discharges into Tygarts Creek,which ultimately flows north to join the Ohio River. The lithostratigraphic context of the karst is theMississippian Age carbonates of the Slade Formation. Karst development is influenced by both beddingand structural controls. We hypothesize that cave level development is controlled by base level changes inthe Ohio River, similar to the relationships documented in MCS and the karst of the Cumberland PlateauThe location and elevation of cave entrances in the CCK was analyzed using a GIS and digitalelevation models (DEMs). Our analysis segregated the cave entrances into four distinct elevation bandsthat we are interpreting as distinct cave levels. The four cave levels have mean elevations (relative to sealevel) of 228 m (L1), 242 m (L2), 261 m (L3), and 276 m (L4). The highest level—L4—has an averageelevation 72 m above the modern surface stream channel. The lowest level—L1—is an average of 24 mabove the modern base level stream, Tygarts Creek. The simplest model for interpreting the cave levels isas a response to an incremental incision of the surface streams in the area and concomitant adjustment ofthe water table elevation. The number of levels we have identified in the CCK area is consistent with thenumber delineated in the MCS and CPK. We suggest that this points toward the climatically-drivenevolution of the Ohio River drainage as controlling the speleogenesis of the CCK area.
Publisher
United States Geological Survey
Citation Information
Lara Harlan, Eric Wade Peterson and Toby J Dogwiler. "Using GIS to identify cave levels and discern the speleogenesis of the Carter Caves karst area, Kentucky"
U.S. Geological Survey Karst Interest Group Proceedings, Fayetteville, Arkansas (April 26-29, 2011)
(2011) p. 94 - 103
Available at: http://works.bepress.com/eric_peterson/21/