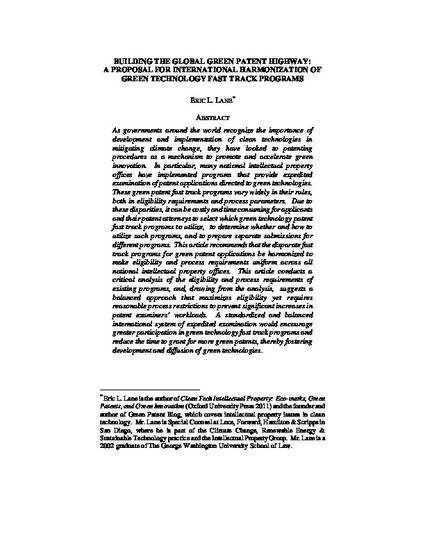 Unpublished Paper
BUILDING THE GLOBAL GREEN PATENT HIGHWAY: A PROPOSAL FOR INTERNATIONAL HARMONIZATION OF GREEN TECHNOLOGY FAST TRACK PROGRAMS
ExpressO (2012)
Abstract
As governments around the world recognize the importance of development and implementation of clean technologies in mitigating climate change, they have looked to patenting procedures as a mechanism to promote and accelerate green innovation. In particular, many national intellectual property offices have implemented programs that provide expedited examination of patent applications directed to green technologies. These green patent fast track programs vary widely in their rules, both in eligibility requirements and process parameters. Due to these disparities, it can be costly and time consuming for applicants and their patent attorneys to select which green technology patent fast track programs to utilize, to determine whether and how to utilize such programs, and to prepare separate submissions for different programs. This article recommends that the disparate fast track programs for green patent applications be harmonized to make eligibility and process requirements uniform across all national intellectual property offices. This article conducts a critical analysis of the eligibility and process requirements of existing programs, and, drawing from the analysis, suggests a balanced approach that maximizes eligibility yet requires reasonable process restrictions to prevent significant increases in patent examiners' workloads. A standardized and balanced international system of expedited examination would encourage greater participation in green technology fast track programs and reduce the time to grant for more green patents, thereby fostering development and diffusion of green technologies.
Keywords
patent,
green technology,
international
Publication Date
January 13, 2012
Citation Information
Eric L. Lane. "BUILDING THE GLOBAL GREEN PATENT HIGHWAY: A PROPOSAL FOR INTERNATIONAL HARMONIZATION OF GREEN TECHNOLOGY FAST TRACK PROGRAMS"
ExpressO
(2012)
Available at: http://works.bepress.com/eric_lane/1/