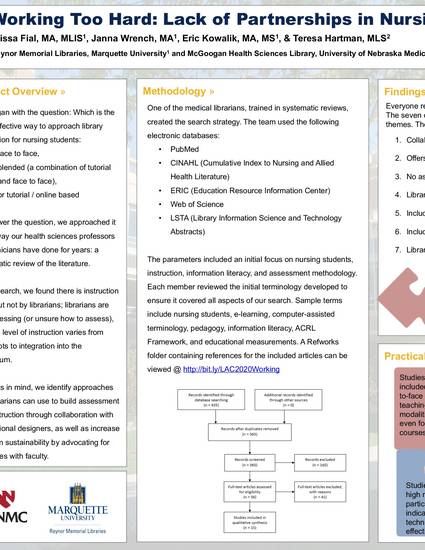 Presentation
Working Too Hard: Lack of Partnerships in Nursing Information Literacy Instruction
Library Assessment Conference 2020 (2020)
Abstract
A team consisting of two medical librarians and two instructional designers set out to identify what is the most effective way to do library instruction. We began with the question: Which is the most effective way to approach library instruction for nursing students:
face to face,
blended (a combination of tutorial and face to face),
or tutorial / online based
Time continues to be a commodity in library instruction. There are negotiations on the amount of time spent in the classroom. Librarians have acknowledged that one-shot instruction is not ideal and consider ways to supplement or provide access to library instruction using FAQs, as a method to best utilize the time provided. How willing are class instructors to give up lecture and classroom discussion time to make room for library instruction?
To answer the question, we approached it in the way our health sciences professors and clinicians have done for years: a systematic review of the literature. In our search, we found there is instruction done but not by librarians; librarians are not assessing (or unsure how to assess), and the level of instruction varies from one-shots to integration into the curriculum.
With this in mind, we identify approaches that librarians can use to build assessment into instruction through collaboration with instructional designers, as well as increase program sustainability by advocating for ourselves with faculty.
Keywords
assessment,
information literacy,
embedded librarianship,
tutorial,
online learning,
blended learning,
nursing
Publication Date
Fall October 28, 2020
Citation Information
Alissa Fial, Janna Wrench, Eric A. Kowalik and Teresa Hartman. "Working Too Hard: Lack of Partnerships in Nursing Information Literacy Instruction"
Library Assessment Conference 2020
(2020)
Available at: http://works.bepress.com/eric_kowalik/24/
Creative Commons License
This work is licensed under a Creative Commons CC_BY-SA International License.