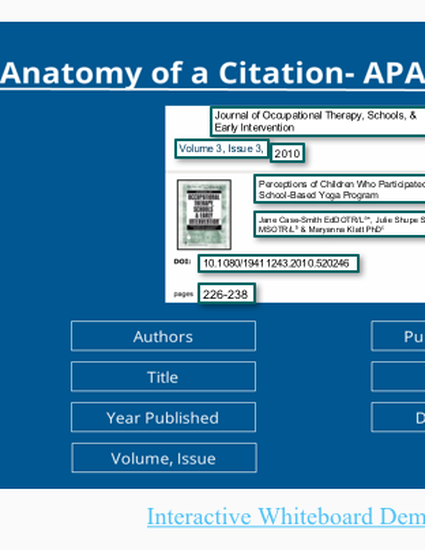 Presentation
One Tutorial, Two Universities: How Technology Can Be Adapted to Meet the Needs of Multiple Libraries
LOEX (2016)
Abstract
How many times have you participated in this scenario?
     Student: I can't find this article in the databases (she shows you a citation).
     You: Oh, this citation is for a book. Let's check the catalog.
Helping students understand citations seems to be an on-going activity, but learning about citations can be boring and requires attention to detail. In order to address this problem, we created a fun tutorial using drag-and-drop technology that can be used in an online environment or in the classroom. The tutorial helps students identify the elements of a citation, place them in the correct order, and distinguish among citations for articles, books, and book chapters.
In this presentation, we will share how Marquette University Libraries created the tutorial using Articulate Storyline,
added it to GitHub as an open source download
, and how
Grand Valley State University Libraries adapted the tutorial
. We will also share the peaks and pitfalls we experienced along the way, including results of our student and faculty surveys. You'll have an opportunity to go through the citation tutorial and discuss how it, or any of the other open source Storyline activities, could be adapted for information literacy instruction (Transcripts of the presentation can be found in the Notes field of the PowerPoint slides)
Keywords
Citations,
APA,
MLA,
Desire2Learn,
D2L,
e-learning,
active learning,
Information Literacy,
Articulate Storyline,
Instruction,
Teaching,
Embedded Librarianship
Publication Date
Spring May 6, 2016
Citation Information
Eric A. Kowalik, Valerie Beech, Betsy A. Williams and Rita Kohrman. "One Tutorial, Two Universities: How Technology Can Be Adapted to Meet the Needs of Multiple Libraries"
LOEX
(2016)
Available at: http://works.bepress.com/eric_kowalik/12/
Creative Commons License
This work is licensed under a Creative Commons CC_BY-NC-SA International License.