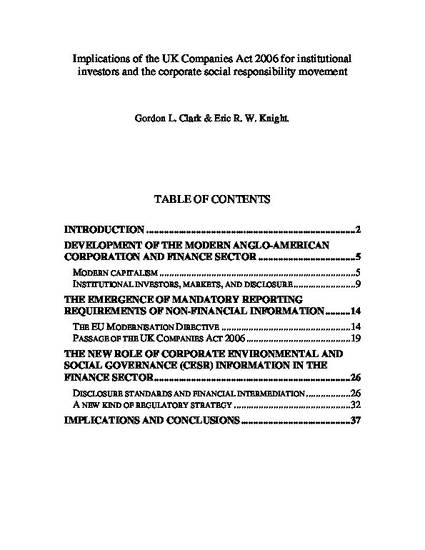 Unpublished Paper
IMPLICATIONS OF THE UK COMPANIES ACT 2006 FOR INSTITUTIONAL INVESTORS AND THE CORPORATE SOCIAL RESPONSIBILITY MOVEMENT
ExpressO (2008)
Abstract
Non-governmental organisations, activists, and the public-at-large hold large firms accountable on many issues including their environmental footprints and the social standards of their suppliers around the world. For those coming from European social democratic traditions, stakeholders have a legitimate voice in the affairs of the corporation especially in two-tiered governance regimes that separate supervision from management. Notwithstanding attempts to re-write their proper roles and responsibilities, the Anglo-American corporation is widely believed to be the medium for the accumulation of shareholder value.
Recently, however, a counter-argument has emerged suggesting that the UK Companies Act 2006 broke with this tradition to embrace the European model if not wholly then at least in terms of giving legitimate voice to social and environmental issues. We note that the UK Companies Act 2006 owes much to the EU Accounts Modernisation Directive but argue that the disclosure of social and environmental factors relevant to understanding the risks faced by the corporation owes more to the interests of institutional investors than community activism. We also suggest that there remain deep-seated divisions amongst institutional investors (especially different types of pension funds) that may have long-term consequences for UK disclosure policy and the power of markets to affect corporate social and environmental responsibility. We contrast the UK amendments with the current situation in the United States.
Keywords
Companies Act UK 2006,
directors' duties,
role of the corporation,
mandatory non-financial reporting,
comparative law - European vs Anglo-American,
institutional investors,
corporate social responsibility
Publication Date
August 28, 2008
Citation Information
Gordon L. Clark and Eric R. W. Knight. "IMPLICATIONS OF THE UK COMPANIES ACT 2006 FOR INSTITUTIONAL INVESTORS AND THE CORPORATE SOCIAL RESPONSIBILITY MOVEMENT"
ExpressO
(2008)
Available at: http://works.bepress.com/eric_knight/1/