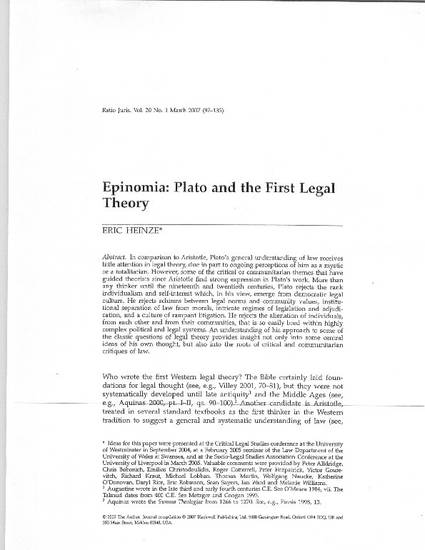 Article
Epinomia: Plato and the First Legal Theory
Ratio Juris (2007)
Abstract
In comparison to Aristotle, Plato's general understanding of law receives little attention in legal theory, due in part to ongoing perceptions of him as a mystic or a totalitarian. However, some of the critical or communitarian themes that have guided theorists since Aristotle already find strong expression in Plato's work. More than any thinker until the 19th and 20th centuries, Plato rejects the rank individualism and self-interest which, in his view, emerge within democratic legal culture. He rejects schisms between legal norms and community values, institutional separation of law from morals, intricate regimes of legislation and adjudication, and a culture of rampant litigation. He rejects the alienation of individuals, from each other and from their communities, that is so easily bred within highly complex political and legal systems. An understanding of his approach to some of the classic questions of legal theory provides insight not only into some central ideas of his own thought, but also into the roots of critical and communitarian critiques of law.
Keywords
ancient legal theory,
Aristotle,
communitarianism,
critical theory,
democracy,
Greece,
liberalism,
Plato,
pre-modern theory,
rule skepticism
Citation Information
Eric Heinze. "Epinomia: Plato and the First Legal Theory"
Ratio Juris
Vol. 20 (2007)
Available at: http://works.bepress.com/eric_heinze/7/