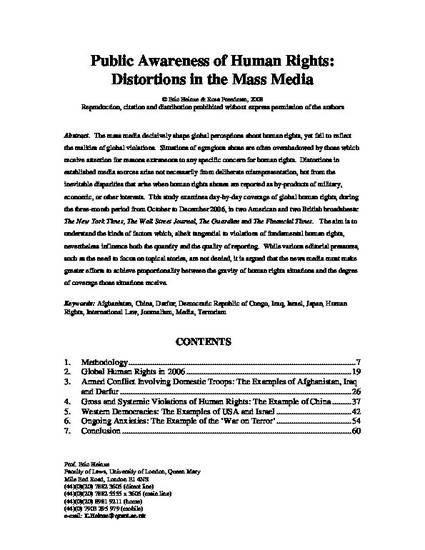 Unpublished Paper
Public Awareness of Human Rights: Distortions in the Mass Media
ExpressO (2008)
Abstract
This article examines distortions of human rights reporting in the mass media. We examine human rights coverage in four of the most influential newspapers, two from the US and two from the UK. The US papers are The New York Times and The Wall Street Journal. The British papers are The Financial Times and The Guardian.
Most current scholarship on international human rights draws its information from specialized sources, such as the published reports of intergovernmental and non-governmental organisations. Wholly absent has been any systematic study of the mass media. To date, no one has examined the dominant media agencies, with a view towards their possible effects on perceptions of human rights among the broader public, and among governmental and institutional policymakers.
In focussing on "distortions," we do not argue that these newspapers deliberately falsify their facts. To the contrary, we argue that these papers show a clear concern with reliable human rights coverage. Nevertheless, journalistic imbalances inevitably arise through the pressures of appealing to a non-specialised readership within a competitive market.
We examine the four newspapers with a focus on distortions arising from coverage of violations in Afghanistan, Iraq, Sudan, China, the US and Israel. While we would not expect radical changes in mainstream journalistic practices, we argue that some improvements would be desirable and feasible. At the beginning of the article, we introduce methodological issues that would be relevant to other mass media, such as radio, television or the internet.
Keywords
Afghanistan,
China,
Darfur,
Democratic Republic of Congo,
Iraq,
Israel,
Japan,
Human Rights,
International Law,
Journalism,
Media,
Terrorism
Publication Date
September 1, 2008
Citation Information
Eric Heinze and Rosa Freedman. "Public Awareness of Human Rights: Distortions in the Mass Media"
ExpressO
(2008)
Available at: http://works.bepress.com/eric_heinze/6/