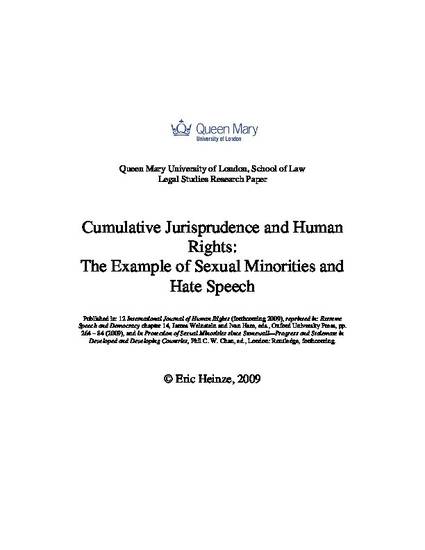 Article
Cumulative Jurisprudence and Hate Speech: Sexual Orientation and Analogies to Disability, Age and Obesity
International Journal of Human Rights (2009)
Abstract
Non-discrimination norms in human rights instruments generally enumerate specified categories for protection, such as race, ethnicity, sex or religion, etc. They often omit express reference to sexual minorities.
Through open-ended interpretation, however, sexual minorities subsequently become incorporated. That 'cumulative jurisprudence' yields protections for sexual minorities through norms governing privacy, employment, age of consent, or freedoms of speech and association.
Hate speech bans, too, are often formulated with reference to traditionally recognised categories, particularly race and religion. It might be expected that the same cumulative jurisprudence should therefore be applied to include sexual minorities. In this article, that approach is challenged.
Hate speech bans suffer from inherent flaws. They either promote discrimination by limiting the number of protected categories, or, by including all meritorious categories, would dramatically limit free speech. Sexual minorities within longstanding, stable and prosperous democracies should generally enjoy all human rights, but should not necessarily seek the protections of hate speech bans.
Keywords
discrimination,
free speech,
gay rights,
hate speech,
human rights jurisprudence,
minorities,
sexual minorities
Citation Information
Eric Heinze. "Cumulative Jurisprudence and Hate Speech: Sexual Orientation and Analogies to Disability, Age and Obesity"
International Journal of Human Rights
Vol. 12 (2009)
Available at: http://works.bepress.com/eric_heinze/10/