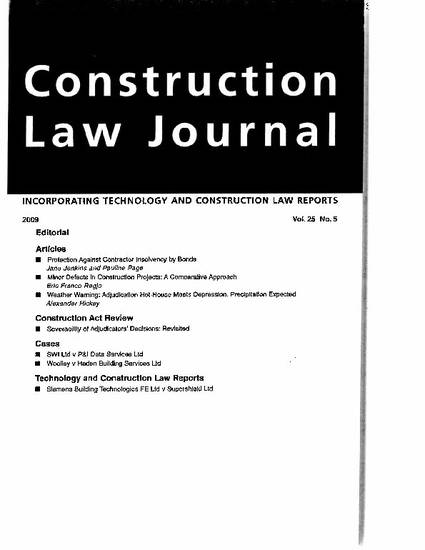 Article
Minor Defects in Construction Projects: A Comparative Approach
Construction Law Journal (2009)
Abstract
The final part of a project is not so publicized and celebrated as the beginning. It is very difficult to end a project well. The employer will usually pay attention to minor defects (if there are no serious ones) and they will leave the employer and the contractor at least with a bitter taste. What are the remedies available to the employer in case there are minor defects and what are the rights of the contractor in that case? Can the employer terminate the contract or reject the works? Is the employer released from the obligation to pay the price or any amount due? Can the employer require the contractor to make good the defects or make them good by a third party and make the contractor liable for the costs? Can the employer reduce the price? Can the employer only claim damages? The applicable law and the agreement between the parties determine the remedies available, but depending on the circumstances it could be unreasonable or excessively harsh for the contractor to apply some remedies. In some cases there are trivial minor defects and can be acceptable, but in others an apparently trivial defect may be important for the employer. There are also cases where the defect is minor at the moment of completion, but it can develop into a serious defect after some time.
Citation Information
Eric Franco. "Minor Defects in Construction Projects: A Comparative Approach"
Construction Law Journal
Vol. 25 Iss. 5 (2009)
Available at: http://works.bepress.com/eric_franco/1/