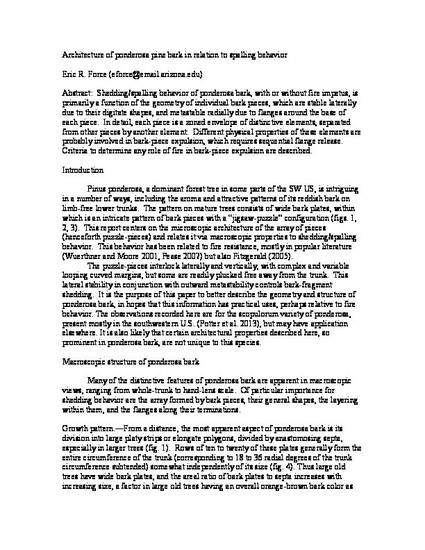 Article
Architecture of ponderosa pine bark in relation to spalling behavior
unpublished (2014)
Abstract
Shedding/spalling behavior of ponderosa bark, with or without fire impetus, is primarily a function of the geometry of individual bark pieces, which are stable laterally due to their digitate shapes, and metastable radially due to flanges around the base of each piece. In detail, each piece is a zoned envelope of distinctive elements, separated from other pieces by another element. Different physical properties of these elements are probably involved in bark-piece expulsion, which requires sequential flange release. Criteria to determine any role of fire in bark-piece expulsion are described.
Citation Information
Eric R Force. "Architecture of ponderosa pine bark in relation to spalling behavior"
unpublished
(2014)
Available at: http://works.bepress.com/eric_force/1/