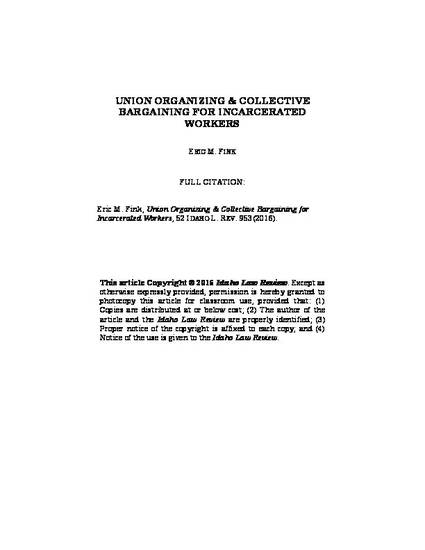 Article
Union Organizing & Collective Bargaining for Incarcerated Workers
Idaho Law Review (2016)
Abstract
Between 75 and 80,000 inmates nationwide work in prison industries, producing goods and performing services, primarily for government agencies, but also in some cases for the private sector. Incarcerated workers enjoy few of the legal rights and protections that apply to otherwise similar employment outside of prison. This disparate legal treatment facilitates the superexploitation of prison labor and impedes solidarity among workers on opposite sides of the prison walls.  
One way that incarcerated workers have asserted their class consciousness and pursued better conditions has been through the formation of prison labor unions. The wholesale denial of union organizing and collective bargaining rights is justified neither by hair-splitting efforts to define incarcerated workers as non-employees, nor by bald assertions that recognizing such rights would imperil prison order and security. Rather, a rational approach would recognize prison labor for what it is: part-and-parcel of the contemporary economy.  
Incarcerated workers, like others performing similar labor outside of prison, should have the legally-protected right to organize, bargain collectively, and engage in other concerted activity aimed at improving their terms and conditions of employment. Doing so would empower incarcerated workers to advance their own interests as workers, while also helping to mitigate the unfair competition that prison labor represents for non-incarcerated workers. An experiment involving the relatively small number of incarcerated workers under PIECP and UNICOR will provide an opportunity to fine-tune existing labor relations law to deal with the special issues associated with the peculiar setting on prison labor.
Keywords
labor,
prisons,
exploitation,
unions,
PIECP,
UNICOR
Citation Information
Eric M Fink. "Union Organizing & Collective Bargaining for Incarcerated Workers"
Idaho Law Review
Vol. 52 (2016) p. 953
Available at: http://works.bepress.com/eric_fink/9/
Creative Commons license
This work is licensed under a Creative Commons CC_BY-NC-SA International License.