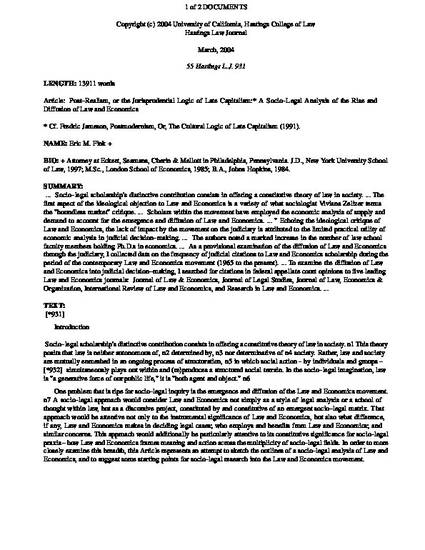 Article
Post-Realism, or the Jurisprudential Logic of Late Capitalism: A Socio-Legal Analysis of the Rise and Diffusion of Law & Economics
Hastings Law Journal (2004)
Abstract
One problem that is ripe for socio-legal inquiry is the emergence and diffusion of the Law and Economics movement. A socio-legal approach would consider Law and Economics not simply as a style of legal analysis or a school of thought within law, but as a discursive project, constituted by and constitutive of an emergent socio-legal matrix. That approach would be attentive not only to the instrumental significance of Law and Economics, but also what difference, if any, Law and Economics makes in deciding legal cases; who employs and benefits from Law and Economics; and similar concerns. This approach would additionally be particularly attentive to its constitutive significance for socio-legal praxis - how Law and Economics frames meaning and action across the multiplicity of socio-legal fields. In order to more closely examine this breadth, this Article represents an attempt to sketch the outlines of a socio-legal analysis of Law and Economics, and to suggest some starting points for socio-legal research into the Law and Economics movement.
Citation Information
Eric M Fink. "Post-Realism, or the Jurisprudential Logic of Late Capitalism: A Socio-Legal Analysis of the Rise and Diffusion of Law & Economics"
Hastings Law Journal
Vol. 55 (2004)
Available at: http://works.bepress.com/eric_fink/2/