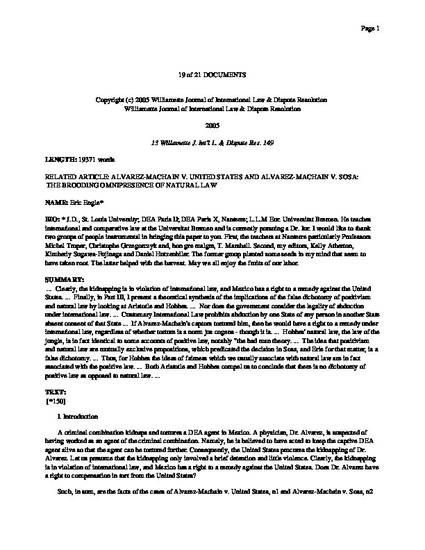 Article
Related Article: Alvarez-Machain V. United States and Alvarez-Machain V. Sosa: The Brooding Omnipresence of Natural Law
Willamette Journal of International Law and Dispute Resolution, Vol. 13, No. 149, 2005 (2005)
Abstract
Alvarez Machain was wrongly decided because the Supreme Court rejects natural law arguments out of hand. Natural law and positive law are not dichotomous. They are complementary. The Supreme Court will eventually be forced to review all cases rejecting arguments due to a rejection of natural law.
Keywords
Alvarez,
Machain,
ATS,
alien tort statute,
natural law,
IUS,
naturale lex naturalis
Citation Information
Eric A. Engle. "Related Article: Alvarez-Machain V. United States and Alvarez-Machain V. Sosa: The Brooding Omnipresence of Natural Law"
Willamette Journal of International Law and Dispute Resolution, Vol. 13, No. 149, 2005
Vol. 13 (2005)
Available at: http://works.bepress.com/eric_engle/29/