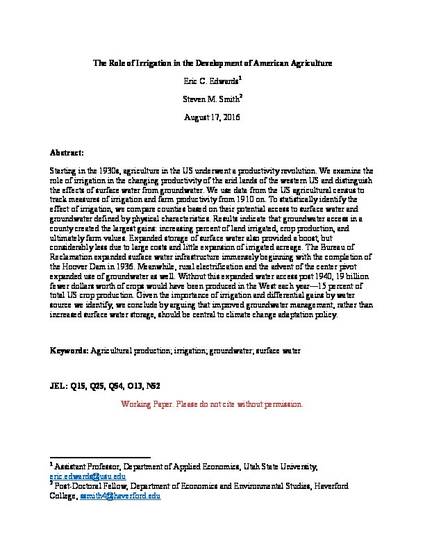 Unpublished Paper
The Role of Irrigation in the Development of American Agriculture
Working Paper (2016)
Abstract
Starting in the 1930s, agriculture in the US underwent a productivity revolution. We examine the role of irrigation in the changing productivity of the arid lands of the western US and distinguish the effects of surface water from groundwater. We use data from the US agricultural census to track measures of irrigation and farm productivity from 1910 on. To statistically identify the effect of irrigation, we compare counties based on their potential access to surface water and groundwater defined by physical characteristics. Results indicate that groundwater access in a county created the largest gains: increasing percent of land irrigated, crop production, and ultimately farm values. Expanded storage of surface water also provided a boost, but considerably less due to large costs and little expansion of irrigated acreage. The Bureau of Reclamation expanded surface water infrastructure immensely beginning with the completion of the Hoover Dam in 1936. Meanwhile, rural electrification and the advent of the center pivot expanded use of groundwater as well. Without this expanded water access post 1940, 19 billion fewer dollars worth of crops would have been produced in the West each year—15 percent of total US crop production. Given the importance of irrigation and differential gains by water source we identify, we conclude by arguing that improved groundwater management, rather than increased surface water storage, should be central to climate change adaptation policy.  
Keywords
Agricultural production,
Irrigation,
groundwater,
surface water
DOI
10.13140/RG.2.2.19247.12965
Citation Information
Eric C. Edwards and Steven M. Smith. "The Role of Irrigation in the Development of American Agriculture"
Working Paper
(2016)
Available at: http://works.bepress.com/eric_edwards/12/