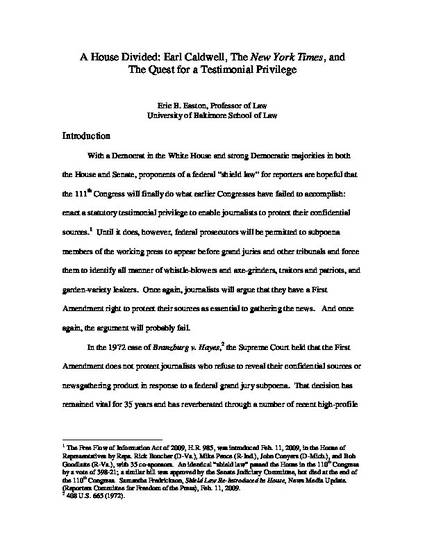 Unpublished Paper
A House Divided: Earl Caldwell, The New York Times, and The Quest for a Testimonial Privilege
ExpressO (2009)
Abstract
In the 1972 case of Branzburg v. Hayes, the Supreme Court held that the First Amendment does not protect journalists who refuse to reveal their confidential sources or newsgathering product in response to a federal grand jury subpoena. That decision has remained vital for 35 years and has reverberated through a number of recent high-profile cases. Despite some form of protection in nearly every state court, reporters haled before a federal judge may have no recourse save prison. Devastating as Branzburg has been for the so-called "journalist's privilege," its negative impact has been far broader. Branzburg is one of Supreme Court's earliest newsgathering decisions and arguably the most influential. While the press has been very successful in persuading the courts to find First Amendment protection for its editorial product, it has been far less successful with regard to protection for newsgathering. The Branzburg precedent epitomizes the frustration of the press in attempting to secure First Amendment, or even statutory, protection for newsgathering, and this article explores one of the primary reasons for that failure: the inability of the diverse elements that comprise "the press" to agree on the appropriate scope of such protection. This article examines the Branzburg case as an example of strategic litigation, initiated or pursued by mainstream media organizations as part of a continuing effort to shape the First Amendment doctrine under which journalists practice their craft. Part I presents the factual background of the three cases that were consolidated in the Branzburg opinion, as well as brief procedural timelines and synopses of the opinions in the cases. Throughout, the article will focus on one of those cases – United States v. Caldwell – by far the most important of the three. Part II examines more closely the values of the reporters and editors who decided to take these cases all the way to the United States Supreme Court through the arguments that were presented on their behalf. Part III assesses the benefits of success, the cost of failure, and the probability of either outcome as they might have been calculated by the parties at the time. Part IV looks at the opinion itself and the equally unavailing legislative efforts that followed. Finally, I offer some tentative conclusions about the miscalculations that left the press with such a disastrous precedent on the books.
Publication Date
February 21, 2009
Citation Information
Eric B Easton. "A House Divided: Earl Caldwell, The New York Times, and The Quest for a Testimonial Privilege"
ExpressO
(2009)
Available at: http://works.bepress.com/eric_easton/2/