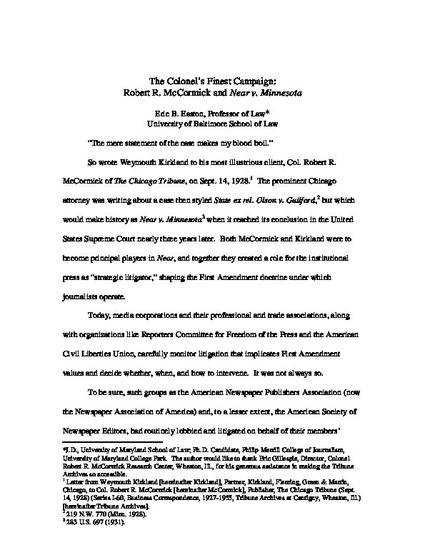 Unpublished Paper
The Colonel's Finest Campaign: Robert R. McCormick and Near v. Minnesota
ExpressO (2007)
Abstract
This paper documents the collaboration between The Chicago Tribune's Robert McCormick and attorney Weymouth Kirkland to mobilize the press to carry Near v. Minnesota to the Supreme Court. In an earlier paper, I demonstrated how the press acts as "strategic litigator" to shape the legal environment in which reporters and editors practice their craft. The collaboration discussed in this article established the precedent for monitoring litigation that implicates First Amendment values and deciding whether, when, and how to intervene.
Publication Date
September, 2007
Citation Information
Eric B Easton. "The Colonel's Finest Campaign: Robert R. McCormick and Near v. Minnesota"
ExpressO
(2007)
Available at: http://works.bepress.com/eric_easton/1/