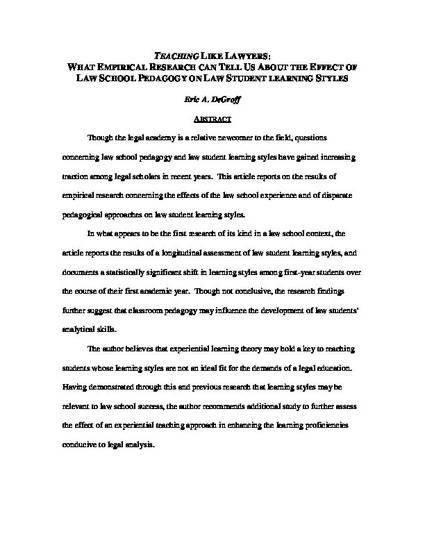 Unpublished Paper
Teaching Like Lawyers: What Empirical Research Can Tell Us About the Effect of Law School Pedagogy on Law Student Learning Styles
ExpressO (2011)
Abstract
Though the legal academy is a relative newcomer to the field, questions concerning law school pedagogy and law student learning styles have gained increasing traction among legal scholars in recent years. This article reports the results of empirical research concerning the effects of the law school experience and of disparate pedagogical approaches on law student learning styles.
In what appears to be the first research of its kind in a law school context, the article reports the results of a longitudinal assessment of law student learning styles, and documents a statistically significant shift in learning styles among first-year students over the course of an academic year. Though not conclusive, the findings further suggest that classroom pedagogy may influence the development of law students' analytical skills.
The author believes that experiential learning theory may hold a key to reaching students whose learning styles are less than ideally suited for the demands of a legal education. Having demonstrated through this and previous research that learning styles may be relevant to law school success, the author recommends additional study to further assess the effect of an experiential teaching approach in enhancing the learning proficiencies conducive to legal analysis.
Keywords
Empirical research,
pedagogy,
learning styles,
legal education
Publication Date
March 21, 2011
Citation Information
Eric A DeGroff. "Teaching Like Lawyers: What Empirical Research Can Tell Us About the Effect of Law School Pedagogy on Law Student Learning Styles"
ExpressO
(2011)
Available at: http://works.bepress.com/eric_degroff/1/