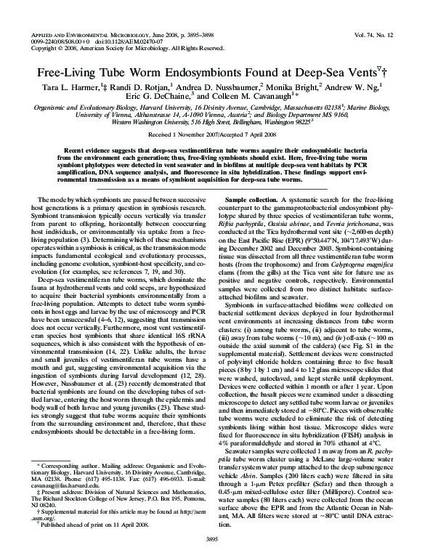 Article
Free-Living Tube Worm Endosymbionts Found at Deep-Sea Vents
Applied and Environmental Microbiology
Publication Date
6-1-2008
Abstract
Recent evidence suggests that deep-sea vestimentiferan tube worms acquire their endosymbiotic bacteria from the environment each generation; thus, free-living symbionts should exist. Here, free-living tube worm symbiont phylotypes were detected in vent seawater and in biofilms at multiple deep-sea vent habitats by PCR amplification, DNA sequence analysis, and fluorescence in situ hybridization. These findings support environmental transmission as a means of symbiont acquisition for deep-sea tube worms.
Citation Information
Tara L. Harmer, Randi D. Rotjan, Andrea D. Nussbaumer, Monika Bright, et al.. "Free-Living Tube Worm Endosymbionts Found at Deep-Sea Vents"
Applied and Environmental Microbiology
Vol. 74 Iss. 12 (2008) p. 3895 - 3898
Available at: http://works.bepress.com/eric_dechaine/2/