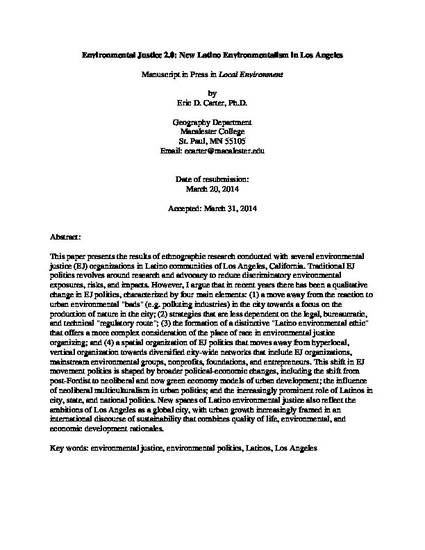 Article
Environmental Justice 2.0: new Latino environmentalism in Los Angeles
Local Environment (2014)
Abstract
This paper presents the results of ethnographic research conducted with several environmental justice (EJ) organisations in Latino communities of Los Angeles, California. Traditional EJ politics revolves around research and advocacy to reduce discriminatory environmental exposures, risks, and impacts. However, I argue that in recent years there has been a qualitative change in EJ politics, characterised by four main elements: (1) a move away from the reaction to urban environmental "bads" (e.g. polluting industries) in the city towards a focus on the production of nature in the city; (2) strategies that are less dependent on the legal, bureaucratic, and technical "regulatory route"; (3) the formation of a distinctive "Latino environmental ethic" that offers a more complex consideration of the place of race in EJ organising; and (4) a spatial organisation of EJ politics that moves away from hyperlocal, vertical organisation towards diversified city-wide networks that include EJ organisations, mainstream environmental groups, nonprofits, foundations, and entrepreneurs. This shift in EJ movement politics is shaped by broader political-economic changes, including the shift from post-Fordist to neoliberal and now green economy models of urban development; the influence of neoliberal multiculturalism in urban politics; and the increasingly prominent role of Latinos in city, state, and national politics. New spaces of Latino EJ also reflect the ambitions of Los Angeles as a global city, with urban growth increasingly framed in an international discourse of sustainability that combines quality of life, environmental, and economic development rationales.
Keywords
environmental justice,
environmental politics,
Latinos,
Los Angeles
Citation Information
Eric D. Carter. "Environmental Justice 2.0: new Latino environmentalism in Los Angeles"
Local Environment
(2014)
Available at: http://works.bepress.com/eric_carter/8/