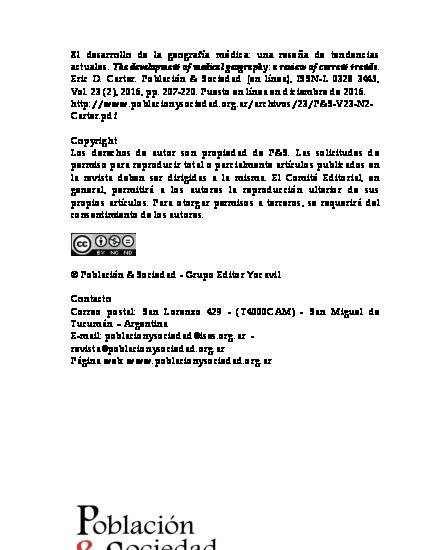 Article
carter_geografia_medica_PyS_2016_con_citas.pdf
Población & Sociedad (2016)
Abstract
El objetivo de esta nota consiste en reseñar la evolución del campo de la
geografía médica, sobre todo en el ámbito de la producción científica del
mundo angloparlante. Se identifican vertientes principales que sirven para
orientar la evolución de la geografía médica, y se detalla la diversificación
reciente de los temas, bases teóricas y orientaciones metodológicas de este
campo. Además, se propone que la geografía médica es beneficiaria de ciertos
cambios ajenos del ámbito de la geografía académica, sobre todo tendencias
favorables en la formación de profesionales del sector salud y en las políticas
de salud pública a nivel internacional. --- The objective of this article is to review the evolution of medical geography,
with a particular focus on the scientific literature from the English-speaking
world. I identify major currents in the field and discuss the recent
diversification of themes, theoretical frameworks, and methodological
orientations in medical geography. In addition, I argue that medical
geography benefits from certain changes that are external to the world of
academic geography, especially favorable tendencies in the formation of
health professionals and changes in international public health discourse and
policies.
Keywords
geografía,
geografía médica,
salud pública,
metodología,
medicina social,
medical geography
Citation Information
Eric D. Carter. "carter_geografia_medica_PyS_2016_con_citas.pdf"
Población & Sociedad
Vol. 23 Iss. 2 (2016) p. 207 - 220 ISSN: 0328-3445
Available at: http://works.bepress.com/eric_carter/12/