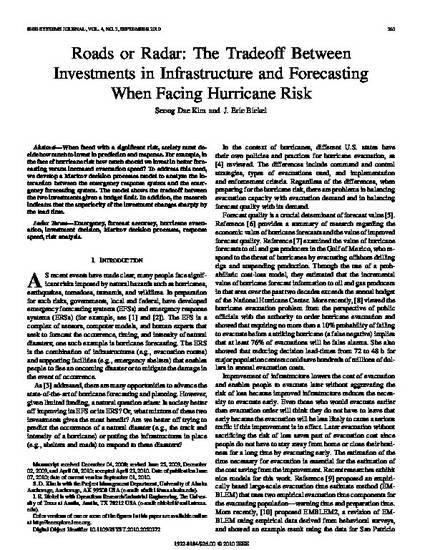 Article
Roads or Radar: The Tradeoff between Investments in Infrastructure and Forecasting when Facing Hurricane Risk
IEEE Systems Journal (2010)
Abstract
When faced with a significant risk, society must decide howmuch to invest in prediction and response. For example, in the face of hurricane risk how much should we invest in better forecasting versus increased evacuation speed? To address this need, we develop a Markov decision processes model to analyze the interaction between the emergency response system and the emergency forecasting system. The model shows the tradeoff between the two investments given a budget limit. In addition, the research indicates that the superiority of the investment changes sharply by the lead time.
Citation Information
Eric Bickel and Seong Dae Kim. "Roads or Radar: The Tradeoff between Investments in Infrastructure and Forecasting when Facing Hurricane Risk"
IEEE Systems Journal
Vol. 4 Iss. 3 (2010)
Available at: http://works.bepress.com/eric_bickel/6/