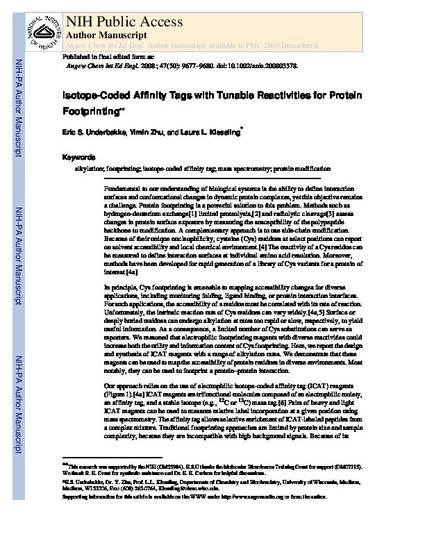 Article
Isotope-Coded Affinity Tags with Tunable Reactivities for Protein Footprinting
Angewandte Chemie International Edition (2008)
Abstract
Fundamental to our understanding of biological systems is the ability to define interaction surfaces and conformational changes in dynamic protein complexes, yet this objective remains a challenge. Protein footprinting is a powerful solution to this problem. Methods such as hydrogen-deuterium exchange[1] limited proteolysis,[2] and radiolytic cleavage[3] assess changes in protein surface exposure by measuring the susceptibility of the polypeptide backbone to modification. A complementary approach is to use side-chain modification. Because of their unique nucleophilicity, cysteine (Cys) residues at select positions can report
on solvent accessibility and local chemical environment.[4] The reactivity of a Cys residue can be measured to define interaction surfaces at individual amino acid resolution. Moreover, methods have been developed for rapid generation of a library of Cys variants for a protein of interest.
Keywords
alkylation,
footprinting,
isotope-coded affinity tag,
mass spectrometry,
protein modification
DOI
10.1002/anie.200803378
Citation Information
Eric S. Underbakke, Yimin Zhu and Laura L. Kiessling. "Isotope-Coded Affinity Tags with Tunable Reactivities for Protein Footprinting"
Angewandte Chemie International Edition
Vol. 47 Iss. 50 (2008) p. 9677 - 9680
Available at: http://works.bepress.com/eric-underbakke/7/