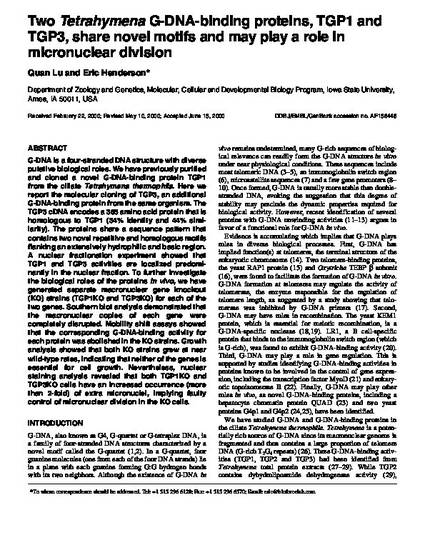 Article
Two Tetrahymena G-DNA-binding proteins, TGP1 and TGP3, share novel motifs and may play a role in micronuclear division
Nucleic Acids Research
Publication Version
Published Version
Publication Date
1-1-2000
DOI
10.1093/nar/28.15.2993
Abstract
G-DNA is a four-stranded DNA structure with diverse putative biological roles. We have previously purified and cloned a novel G-DNA-binding protein TGP1 from the ciliate Tetrahymena thermophila. Here we report the molecular cloning of TGP3, an additional G-DNA-binding protein from the same organism. The TGP3 cDNA encodes a 365 amino acid protein that is homologous to TGP1 (34% identity and 44% similarity). The proteins share a sequence pattern that contains two novel repetitive and homologous motifs flanking an extensively hydrophilic and basic region. A nuclear fractionation experiment showed that TGP1 and TGP3 activities are localized predominantly in the nuclear fraction. To further investigate the biological roles of the proteins in vivo, we have generated separate macronuclear gene knockout (KO) strains (TGP1KO and TGP3KO) for each of the two genes. Southern blot analysis demonstrated that the macronuclear copies of each gene were completely disrupted. Mobility shift assays showed that the corresponding G-DNA-binding activity for each protein was abolished in the KO strains. Growth analysis showed that both KO strains grew at near wild-type rates, indicating that neither of the genes is essential for cell growth. Nevertheless, nuclear staining analysis revealed that both TGP1KO and TGP3KO cells have an increased occurrence (more than 2-fold) of extra micronuclei, implying faulty control of micronuclear division in the KO cells.
Copyright Owner
Oxford University Press
File Format
application/pdf
Citation Information
Quan Lu and Eric Henderson. "Two Tetrahymena G-DNA-binding proteins, TGP1 and TGP3, share novel motifs and may play a role in micronuclear division"
Nucleic Acids Research
Vol. 28 Iss. 15 (2000) p. 2993 - 3001
Available at: http://works.bepress.com/eric-henderson/22/