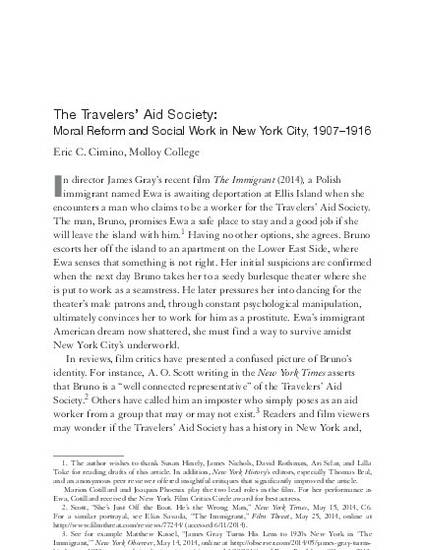 Article
The Traveler's Aid Society: Moral Reform and Social Work in New York City, 1907-1916
New York History
Publication Date
1-1-2016
Publisher's Statement
Permission has been granted to include this article. Copyright is held by the author, Dr. Eric Cimino.
Abstract
The prominent philanthropist, Grace Hoadley Dodge, founded the Travelers' Aid Society as a response to the moral and sexual dangers that she believed confronted single women (immigrant and native-born) as they entered American cities in search of work and leisure. Moral reformers like Dodge assumed that traveling women who were adrift from their family and community existed on the "border line of tragedy," where the slightest misstep could result in a downward spiral that culminated in white slavery, the coerced prostitution of white women. To prevent the tragedy of white slavery, the Travelers' Aid Society provided social work to at-risk travelers at New York City's train stations and piers. This paper explores the society's early years (1907-1916) in New York and uses theories of discipline and empowerment to assess its work.
Citation Information
Eric C Cimino. "The Traveler's Aid Society: Moral Reform and Social Work in New York City, 1907-1916"
New York History
Vol. Summer/Winter 2016 (2016)
Available at: http://works.bepress.com/eric-cimino/3/