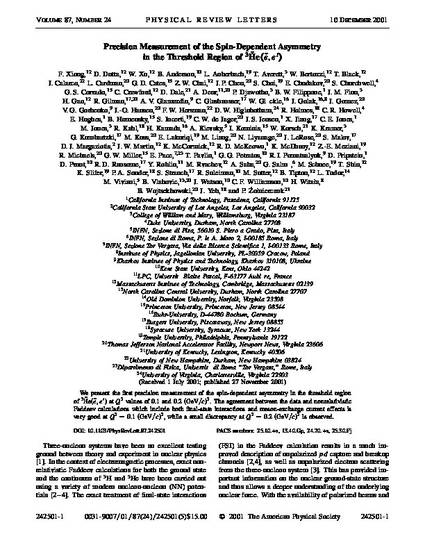 Article
Precision Measurement of the Spin-Dependent Asymmetry in the Threshold Region of 3He (e,e')
Physical Review Letters (2001)
Abstract
We present the first precision measurement of the spin-dependent asymmetry in the threshold region of 3He (e,e') at Q2 values of 0.1 and 0.2(GeV/c)2. The agreement between the data and nonrelativistic Faddeev calculations which include both final-state interactions and meson-exchange current effects is very good at Q2=0.1(GeV/c)2, while a small discrepancy at Q2=0.2(GeV/c)2 is observed.
Keywords
Precision measurement,
Spin-dependent asymmetry
Publication Date
November 27, 2001
DOI
10.1103/PhysRevLett.87.242501
Citation Information
F. Xiong, D. Dutta, W. Xu, Enkeleida K. Lakuriqi, B. Anderson, L. Auberbach, T. Averett, W. Bertozzi, T. Black, J. Calarco, L. Cardman, G. D. Cates, Z. W. Chai, J. P. Chen, S. Choi, E. Chudakov, S. Churchwell, G. S. Corrado, C. Crawford, D. Dale, A. Deur, P. Djawotho, B. W. Filippone, J. M. Finn, H. Gao, R. Gilman, A. V. Glamazdin, C. Glashausser, W. Glockle, J. Golak, J. Gomez, V. G. Gorbenko, J. O. Hansen, F. W. Hersman, D. W. Higinbotham, R. Holmes, C. R. Howell, E. Hughes, B. Humensky, S. Incerti, C. W. de Jager, J. S. Jensen, X. Jiang, C. E. Jones, M. Jones, R. Kahl, H. Kamada, A. Kievsky, I. Kominis, W. Korsch, K. Kramer, G. Kumbartzki, M. Kuss, M. Liang, N. Liyanage, J. LeRose, S. Malov, D. J. Margaziotis, J. W. Martin, K. McCormick, R. D. McKeown, K. McIlhany, Z. E. Meziani, R. Michaels, G. W. Miller, E. Pace, T. Pavlin, G. G. Petratos, R. I. Pomatsalyuk, D. Pripstein, D. Prout, R. D. Ransome, Y. Roblin, M. Rvachev, A. Saha, G. Salme, M. Schnee, T. Shin, K. Slifer, P. A. Souder, S. Strauch, R. Suleiman, M. Sutter, B. Tipton, L. Todor, M. Viviani, B. Vlahovic, J. Watson, C. F. Williamson, H. Witala, B. Wojtsekhowski, J. Yeh, and P. Zolnierczuk. "Precision Measurement of the Spin-Dependent Asymmetry in the Threshold Region of 3He (e,e')"
Physical Review Letters
87.242501 (2001).
doi:10.1103/PhysRevLett.87.242501
Available at: http://works.bepress.com/enkeleida_lakuriqi/8