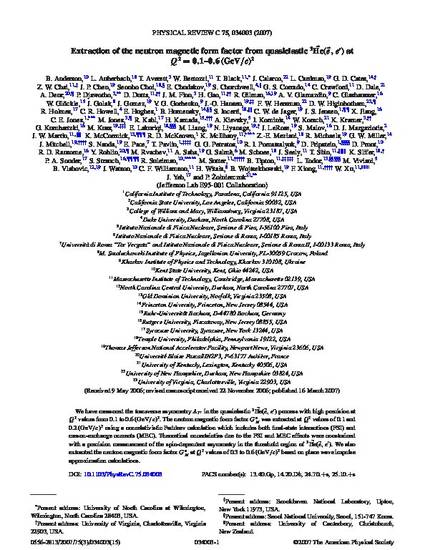 Article
Extraction of the Neutron Magnetic Form Factor from Quasielastic 3He(e , e') at Q2=0.1-0.6 (GeV/c)2
Physical Review C (2007)
Abstract
We have measured the transverse asymmetry AT' in the quasielastic 3He(e,e') process with high precision at Q2 values from 0.1 to 0.6 (GeV/c)2. The neutron magnetic form factor GnM was extracted at Q2 values of 0.1 and 0.2(GeV/c)2 using a nonrelativistic Faddeev calculation which includes both final-state interactions (FSI) and meson-exchange currents (MEC). Theoretical uncertainties due to the FSI and MEC effects were constrained with a precision measurement of the spin-dependent asymmetry in the threshold region of 3He(e,e'). We also extracted the neutron magnetic form factor GnM at Q2 values of 0.3 to 0.6 (GeV/c)2 based on plane wave impulse approximation calculations.
Keywords
Electron nucleon,
Inelastic scattering,
Helium,
Nuclide,
Electron,
Polarized beam,
Polarized target,
N,
Form factor,
Magnetic,
Spin,
Asymmetry,
Transverse,
Momentum transfer dependence,
Impulse approximation,
Plane wave Few-Body problem,
Final-state interaction,
Meson,
Exchange,
Magnetic spectrometer
Publication Date
March 16, 2007
Citation Information
Enkeleida K. Lakuriqi, B. Anderson, L. Auberbach, T. Averett, W. Bertozzi, T. Black, J. Calarco, L. Cardman, G. D. Cates, Z. W. Chai, J. P. Chen, Seonho Choi, E. Chudakov, S. Churchwell, G. S. Corrado, C. Crawford, A. Deur, P. Djawotho, D. Dutta, J. M. Finn, H. Gao, Rutgers University, J. Golak, J. Gomez, V. G. Gorbenko, J. O. Hansen, F. W. Hersman, D. W. Higinbotham, R. Holmes, C. R. Howell, E. Hughes, B. Humensky, S. Incerti, C. W. de Jager, J. S. Jensen, X. Jiang, C. E. Jones, M. Jones, R. Kahl, H. Kamada, A. Kievsky, I. Kominis, W. Korsch, K. Kramer, G. Kumbartzki, M. Kuss, M. Liang, N. Liyanange, J. LeRose, S. Malov, D. J. Margaziotis, J. W. Martin, K. McCormick, R. D. McKeown, K. McIlhany, Z. E. Meziani, R. Michaels, G. W. Miller, J. Mitchell, S. Nanda, E. Pace, T. Pavlin, G. G. Petratos, R. I. Pomatsalyuk, D. Pripstein, D. Prout, R. D. Ransome, Y. Roblin, M. Rvachev, A. Saha, G. Salme, M. Schnee, J. Seely, T. Shin, K. Slifer, P. A. Souder, S. Strauch, R. Suleiman, M. Sutter, B. Tipton, L. Todor, M. Viviani, R. Gilman, A. V. Glamazdin, C. Glashausser, B. Vlahovic, J. Watson, C. F. Williamson, H. Witala, B. Wojsekhowski, F. Xiong, X. Wu, J. Yeh, and P. Zolmierczuk. "Extraction of the Neutron Magnetic Form Factor from Quasielastic 3He(e , e') at Q2=0.1-0.6 (GeV/c)2"
Physical Review C
75.034003 (2007).
doi:10.1103/PhysRevC.75.034003
Available at: http://works.bepress.com/enkeleida_lakuriqi/3