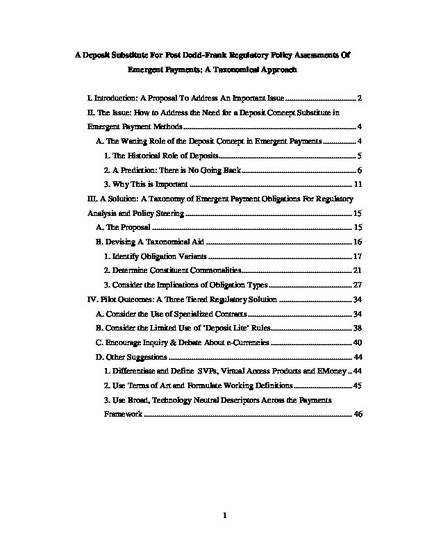 Unpublished Paper
A Deposit Substitute For Post Dodd-Frank Regulatory Policy Assessments Of Emergent Payments: A Taxonomical Approach
ExpressO (2011)
Abstract
Existing stored value products (SVPs) are early prototypes of what payments and money will become: digital, disintermediated, and, possibly, neither state- nor bank-issued. The formulation of stored value regulatory policy in the U.S. has been a complicated, slow process however, producing a piecemeal scheme of broadly uneven regulations. Suffice it to say that the result of several short-term fixes has been to postpone looming inefficiencies and highlight limitations stemming from inconsistencies inherent in their use.
Past regulatory efforts have thrown a startling fact into sharp relief: The relevance of deposits, the hallowed central concept of payments jurisprudence, is undermined in emergent payments. While payments are becoming increasingly abstract, deposit-centered approaches to regulation or policy formulation are becoming ineffective or irrelevant. Some abstract products have defied efforts to pigeonhole them into traditional categories. The role of deposits, the linchpin of payments regulation and regulatory policy, is thus under question. The existing consumer framework in the U.S. does little to prepare for the demands a sophisticated, ultra-abstract, globalized payments system will make in the meantime, at least so far as emergent stored value possibilities are concerned.
The changing nature of abstract consumer payments has been recognized as an important matter for attention in other jurisdictions. The need for preparedness, for future strategic advantage in the global payments arena, has, for example, been on the European Union radar for some time. In the U.S., the "wait and see" approach that encouraged a degree of complacency in the past may still hinder opportunities to address shortcomings of the consumer regulatory patchwork. The consumer framework is subject in effect to a looming "best by" expiry date as a result.
Discussion of issues implicating the jurisprudential underpinnings of our payments system must ultimately ask the question: "Where to from here?" This article answers this question with an eye to the future. It proposes specific steps designed to facilitate the formulation of enduring SVP policy. Part II discusses the motivating and intensifying need for a deposit concept in emergent payments. Part III sets forth steps to follow to the formulation of a suggested taxonomical aid. Part IV presents the results of a pilot run of this regulatory aid, in the form of a three-layered, tailored solution to the central question asked by this article.
Keywords
payments,
payments system reform,
regulatory policy,
stored value products,
electronic money,
electronic payments,
deposits,
gift card,
prepaid card,
contracts,
commercial law,
banking and finance,
computer law,
law and technology
Publication Date
April 25, 2011
Citation Information
Eniola Akindemowo. "A Deposit Substitute For Post Dodd-Frank Regulatory Policy Assessments Of Emergent Payments: A Taxonomical Approach"
ExpressO
(2011)
Available at: http://works.bepress.com/eniola_akindemowo/2/