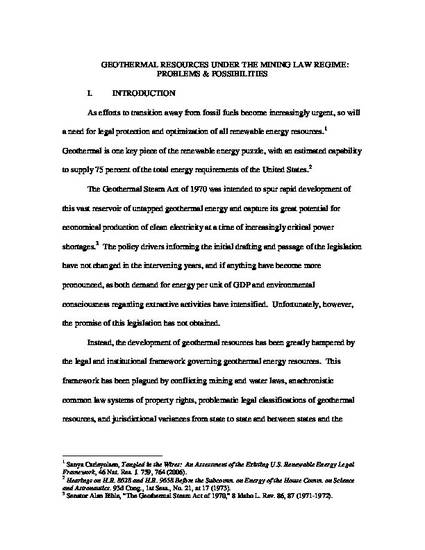 Unpublished Paper
Geothermal Resources Under the Mining Law Regime--Problems & Possibilities
(2011)
Abstract
The development of geothermal resources has been greatly hampered by the legal and institutional framework governing geothermal energy resources. This framework has been plagued by conflicting mining and water laws, anachronistic common law systems of property rights, problematic legal classifications of geothermal resources, and jurisdictional variances from state to state and between states and the Federal government. These issues have combined to significantly hinder the development of what will be a vital resource for our nation's future energy needs.
This thesis concerns one way to address the suboptimal development of geothermal energy resources. Using the Federal acquisition of exclusive airspace jurisdiction as a guiding model, I propose that a similar exercise of Federal jurisdiction over the heat energy under the territorial United States has the real potential to solve several nagging problems that have hindered the development of geothermal energy resources.
This proposal is not without its own potential problems, and there may be additional solutions to the problems in geothermal development. The purpose here is to, at a minimum, spark a dynamic, critical, and progressive legal dialogue regarding how to achieve a critical national energy interest.
The substantive portion of this paper is divided into two broad sections. Section Two explores some of the problematic aspects of the mining law context in which geothermal resource extraction currently operates, and specifically treats some of the classification, severed estate, and jurisdictional problems within that milieu. Section Three then offers a proposal to address these problems: similar to what occurred in the commercial airspace context, the exercise of exclusive Federal jurisdiction over the geothermal heat resources under the United States will achieve the clarity for developers, relief of jurisdictional tensions, and uniformity that any successful legal framework should necessarily address.
Publication Date
Fall December 13, 2011
Citation Information
Richard A Grisel. "Geothermal Resources Under the Mining Law Regime--Problems & Possibilities" (2011)
Available at: http://works.bepress.com/energylaw/2/