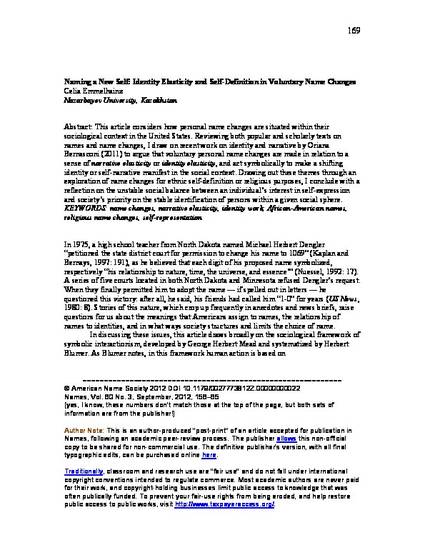 Article
Naming a New Self: Identity Elasticity and Self-Definition in Voluntary Name Changes
Names (2012)
Abstract
This article considers how personal name changes are situated within their sociological context in the United States. Reviewing both popular and scholarly texts on names and name changes, I draw on recent work on identity and narrative by Oriana Bernasconi (2011) to argue that voluntary personal name changes are made in relation to a sense of narrative elasticity or identity elasticity, and act symbolically to make a shifting identity or self-narrative manifest in the social context. Drawing out these themes through an exploration of name changes for ethnic self-definition or religious purposes, I conclude with a reflection on the unstable social balance between an individual's interest in self-expression and society's priority on the stable identification of persons within a given social sphere.
Keywords
name changes,
narrative elasticity,
identity work,
African-American names,
religious name changes,
self-representation
Citation Information
Celia Emmelhainz. "Naming a New Self: Identity Elasticity and Self-Definition in Voluntary Name Changes"
Names
Vol. 60 Iss. 3 (2012)
Available at: http://works.bepress.com/emmelhainz/4/