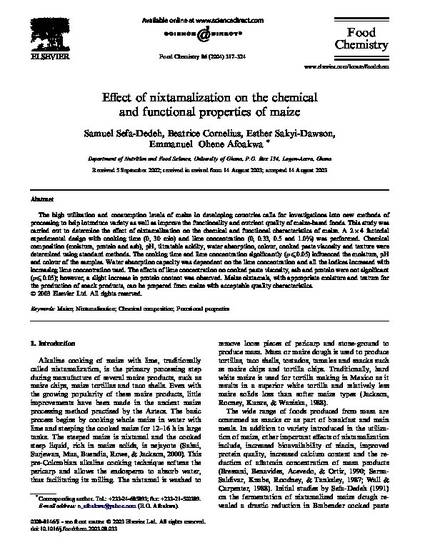 Article
Effect of nixtamalization on the chemical and functional properties of maize
Food Chemistry (2004)
Abstract
The high utilization and consumption levels of maize in developing countries calls for investigations into new methods of processing to help introduce variety as well as improve the functionality and nutrient quality of maize-based foods. This study was carried out to determine the effect of nixtamalization on the chemical and functional characteristics of maize. A 2X4 factorial experimental design with cooking time (0, 30 min) and lime concentration (0, 0.33, 0.5 and 1.0%) was performed. Chemical composition (moisture, protein and ash), pH, titratable acidity, water absorption, colour, cooked paste viscosity and texture were determined using standard methods. The cooking time and lime concentration significantly (p60:05) influenced the moisture, pH and colour of the samples. Water absorption capacity was dependent on the lime concentration and all the indices increased with increasing lime concentration used. The effects of lime concentration on cooked paste viscosity, ash and protein were not significant (p60:05); however, a slight increase in protein content was observed. Maize nixtamals, with appropriate moisture and texture for the production of snack products, can be prepared from maize with acceptable quality characteristics.
Keywords
Maize; Nixtamalization; Chemical composition; Functional properties
Publication Date
April, 2004
Citation Information
Samuel Sefa-Dedeh, Beatrice Cornelius and Emmanuel Ohene Afoakwa. "Effect of nixtamalization on the chemical and functional properties of maize"
Food Chemistry
Vol. 86 (2004)
Available at: http://works.bepress.com/emmanueloheneafoakwa/7/