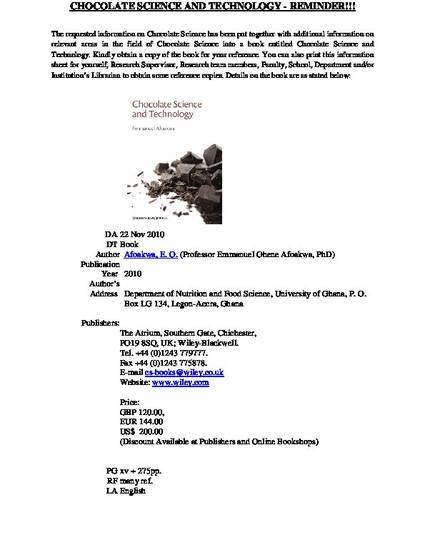 Presentation
Comparative evaluation of rheological models used for evaluating dark chocolate viscosity
1st International Chester Food Science and Technology Conference, University of Chester, Chester, U. K. (2007)
Abstract
Control of chocolate viscosity is vital to its quality and production cost, and is directly influenced by particle size distribution (PSD) and composition during manufacture. The Casson's models (Casson plastic viscosity and Casson yield value) have been used to evaluate chocolate viscosity, until recently when the International Confectionery Association recommended the use of interpolation data (apparent viscosity and yield stress). This paper compares the efficiency and relationship between the two models in defining the rheological properties of dark chocolate systems. Dark chocolate was processed using a 4 x 3 x 2 factorial experiment with varying PSD, fat and lecithin content. Rheological properties of the chocolates were measured using shear rate-controlled rheometer and the data analysed using correlation, regression and principal component analysis. The results indicated that PSD, fat and lecithin content significantly (P<0.05) affected all the rheological parameters, with significant interaction among the factors. Increasing particles sizes from 18–50µm resulted in significant reductions in Casson plastic viscosity, Casson yield value, yield stress, apparent viscosity and thixotropy, with the greatest effect occurring in the chocolates containing 25% fat and 0.3% lecithin, which reduced further with increasing fat and lecithin contents. Correlation and regression analysis conducted among the two models showed high coefficients of correlation (r = 0.8903-0.9977) and regression coefficients (R2 = 0.8368-0.9955), indicating their interrelationships. Principal component analysis and key glyph from the data showed that the two models were highly related and could be used to estimate dark chocolate rheology under different conditions.
Keywords
Chocolate,
rheology,
viscosity,
models
Publication Date
April, 2007
Citation Information
Emmanuel Ohene Afoakwa, Alistair Paterson and Mark Fowler. "Comparative evaluation of rheological models used for evaluating dark chocolate viscosity"
1st International Chester Food Science and Technology Conference, University of Chester, Chester, U. K.
(2007)
Available at: http://works.bepress.com/emmanueloheneafoakwa/65/