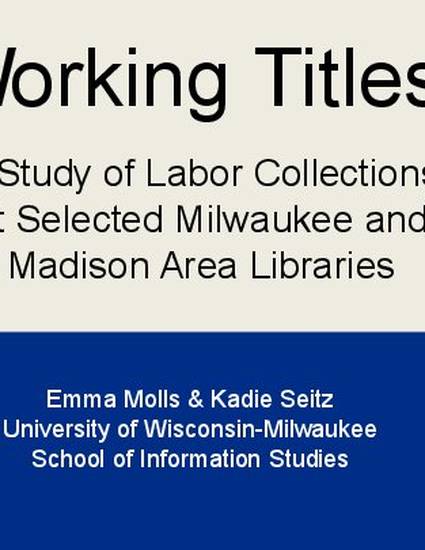 Presentation
Working Titles: A Study of Labor Collections at Selected Milwaukee and Madison Area Libraries
Midwest Labor and Working-Class History (MLWCH) Graduate Student Colloquium (2013)
Abstract
Labor unions and labor issues them have become of heightened interest to many Wisconsin residents due to the 2011 Madison protests in response to Governor Scott Walker's elimination of collective bargaining rights for public sector unions as part of his Budget Repair Bill. This multi-city, multi-library collection study examines access to scholarly information on unions and the labor movement in two major Wisconsin cities.
Publication Date
February, 2013
Citation Information
Emma Molls and Kadie Seitz. "Working Titles: A Study of Labor Collections at Selected Milwaukee and Madison Area Libraries"
Midwest Labor and Working-Class History (MLWCH) Graduate Student Colloquium
(2013)
Available at: http://works.bepress.com/emmamolls/1/