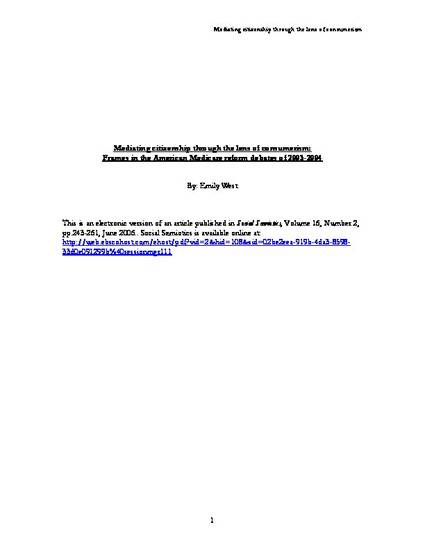 Article
Mediating Citizenship Through the Lens of Consumerism: Frames in the American Medicare Reform Debates of 2003-2004
Social Semiotics (2006)
Abstract
Access to health care is an issue that challenges the imagined boundary between being a 'consumer' and being a 'citizen'. This is especially true in the United States where market-based solutions to providing health care have historically been favored over care organized through government. In the recent debate over how to organize prescription drug coverage for seniors in the United States, stakeholders quoted in the press were more likely to position health care as a consumer issue rather than as an issue of basic rights that accompany citizenship. As scholars such as Lizabeth Cohen (2003) have illustrated, being a 'consumer' is not necessarily a depoliticizing stance. Organizing around consumer rights can be effective in changing policy and bringing people together politically. However, discourse that remains within a consumer rights frame can also reinforce the terms of debate laid out by interested corporations and government. This paper looks at the 'consumer' and 'citizenship' frames in the 2003-2004 debate about prescription drug coverage for seniors in print and television news compared to those promoted by institutional sources. Proponents of the bill sold it on the basis of individualized consumer choice, implicitly collapsing the power of individual choices in both consumerism and citizenship. Compared to their institutional sources, the news media more often highlighted collective models of power and occasionally even resisted the frame of individualized consumerism promoted by supporters of the bill.
Keywords
Choice,
Citizenship,
Consumerism,
Framing,
Health care,
News analysis
Citation Information
Emily West. "Mediating Citizenship Through the Lens of Consumerism: Frames in the American Medicare Reform Debates of 2003-2004"
Social Semiotics
Vol. 16 Iss. 2 (2006)
Available at: http://works.bepress.com/emily_west/7/