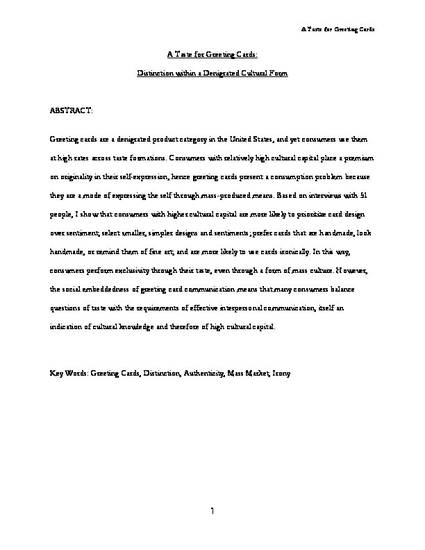 Article
A Taste for Greeting Cards: Distinction within a Denigrated Cultural Form
Journal of Consumer Culture (2010)
Abstract
Greeting cards are a denigrated product category in the United States, and yet consumers use them at high rates across taste formations. Consumers with relatively high cultural capital place a premium on originality in their self-expression, hence greeting cards present a consumption problem because they are a mode of expressing the self through mass-produced means. Based on interviews with 51 people, I show that consumers with higher cultural capital are more likely to prioritize card design over sentiment; select smaller, simpler designs and sentiments; prefer cards that are handmade, look handmade, or remind them of fine art; and are more likely to use cards ironically. In this way, consumers perform exclusivity through their taste, even through a form of mass culture. However, the social embeddedness of greeting card communication means that many consumers balance questions of taste with the requirements of effective interpersonal communication, itself an indication of cultural knowledge and therefore of high cultural capital.
Keywords
Greeting Cards,
Distinction,
Authenticity,
Mass Market,
Irony
Citation Information
Emily West. "A Taste for Greeting Cards: Distinction within a Denigrated Cultural Form"
Journal of Consumer Culture
Vol. 10 Iss. 3 (2010)
Available at: http://works.bepress.com/emily_west/16/