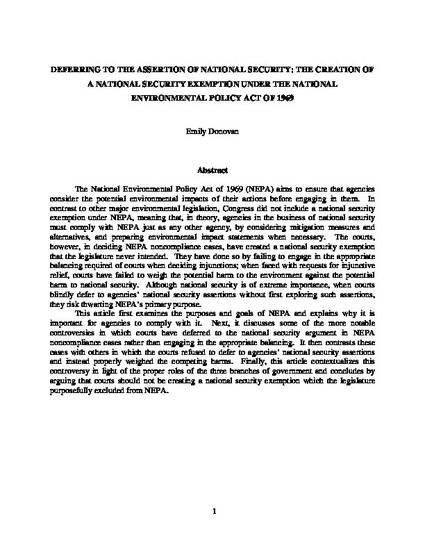 Unpublished Paper
Deferring to the Assertion of National Security: The Creation of a National Security Exemption under the National Environmental Policy Act of 1969
ExpressO (2010)
Abstract
The National Environmental Policy Act of 1969 (NEPA) aims to ensure that agencies consider the potential environmental impacts of their actions before engaging in them. In contrast to other major environmental legislation, Congress did not include a national security exemption under NEPA, meaning that, in theory, agencies in the business of national security must comply with NEPA just as any other agency, by considering mitigation measures and alternatives, and preparing environmental impact statements when necessary. The courts, however, in deciding NEPA noncompliance cases, have created a national security exemption that the legislature never intended. They have done so by failing to engage in the appropriate balancing required of courts when deciding injunctions; when faced with requests for injunctive relief, courts have failed to weigh the potential harm to the environment against the potential harm to national security. Although national security is of extreme importance, when courts blindly defer to agencies' national security assertions without first exploring such assertions, they risk thwarting NEPA's primary purpose.
This article first examines the purposes and goals of NEPA and explains why it is important for agencies to comply with it. Next, it discusses some of the more notable controversies in which courts have deferred to the national security argument in NEPA noncompliance cases rather than engaging in the appropriate balancing. It then contrasts these cases with others in which the courts refused to defer to agencies' national security assertions and instead properly weighed the competing harms. Finally, this article contextualizes this controversy in light of the proper roles of the three branches of government and concludes by arguing that courts should not be creating a national security exemption which the legislature purposefully excluded from NEPA.
Publication Date
September 8, 2010
Citation Information
Emily Donovan. "Deferring to the Assertion of National Security: The Creation of a National Security Exemption under the National Environmental Policy Act of 1969"
ExpressO
(2010)
Available at: http://works.bepress.com/emily_donovan/1/