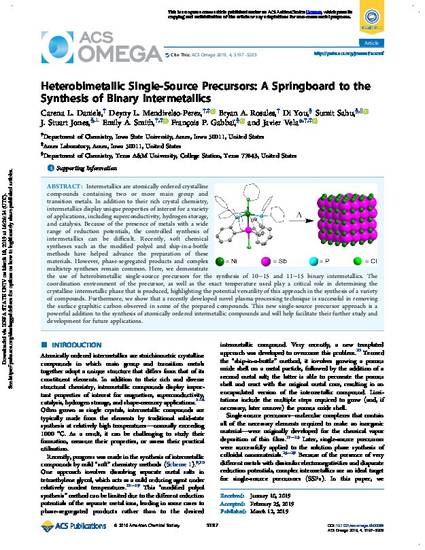 Article
Heterobimetallic Single-Source Precursors: A Springboard to the Synthesis of Binary Intermetallics
ACS Omega
Publication Version
Published Version
Publication Date
1-1-2019
DOI
10.1021/acsomega.9b00088
Abstract
Intermetallics are atomically ordered crystalline compounds containing two or more main group and transition metals. In addition to their rich crystal chemistry, intermetallics display unique properties of interest for a variety of applications, including superconductivity, hydrogen storage, and catalysis. Because of the presence of metals with a wide range of reduction potentials, the controlled synthesis of intermetallics can be difficult. Recently, soft chemical syntheses such as the modified polyol and ship-in-a-bottle methods have helped advance the preparation of these materials. However, phase-segregated products and complex multistep syntheses remain common. Here, we demonstrate the use of heterobimetallic single-source precursors for the synthesis of 10–15 and 11–15 binary intermetallics. The coordination environment of the precursor, as well as the exact temperature used play a critical role in determining the crystalline intermetallic phase that is produced, highlighting the potential versatility of this approach in the synthesis of a variety of compounds. Furthermore, we show that a recently developed novel plasma-processing technique is successful in removing the surface graphitic carbon observed in some of the prepared compounds. This new single-source precursor approach is a powerful addition to the synthesis of atomically ordered intermetallic compounds and will help facilitate their further study and development for future applications.
Rights
This is an open access article published under an ACS AuthorChoice License, which permits copying and redistribution of the article or any adaptations for non-commercial purposes.
Copyright Owner
American Chemical Society
File Format
application/pdf
Citation Information
Carena L. Daniels, Deyny L. Mendivelso-Perez, Bryan A. Rosales, Di You, et al.. "Heterobimetallic Single-Source Precursors: A Springboard to the Synthesis of Binary Intermetallics"
ACS Omega
Vol. 4 Iss. 3 (2019) p. 5197 - 5203
Available at: http://works.bepress.com/emily-smith/46/