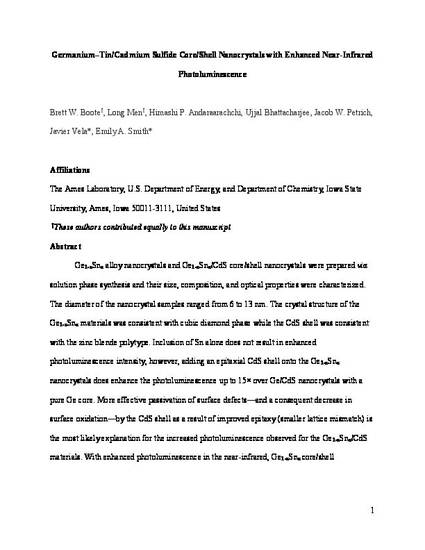 Article
Germanium–Tin/Cadmium Sulfide Core/Shell Nanocrystals with Enhanced Near-Infrared Photoluminescence
Chemistry of Materials
Publication Version
Accepted Manuscript
Publication Date
7-25-2017
DOI
10.1021/acs.chemmater.7b01815
Abstract
Ge1–xSnx alloy nanocrystals and Ge1–xSnx/CdS core/shell nanocrystals were prepared via solution phase synthesis, and their size, composition, and optical properties were characterized. The diameter of the nanocrystal samples ranged from 6 to 13 nm. The crystal structure of the Ge1–xSnx materials was consistent with a cubic diamond phase, while the CdS shell was consistent with the zinc blende polytype. Inclusion of Sn alone does not result in enhanced photoluminescence intensity; however, adding an epitaxial CdS shell onto the Ge1–xSnxnanocrystals does enhance the photoluminescence up to 15-fold versus that of Ge/CdS nanocrystals with a pure Ge core. More effective passivation of surface defects, and a consequent decrease in the level of surface oxidation, by the CdS shell as a result of improved epitaxy (smaller lattice mismatch) is the most likely explanation for the increased photoluminescence observed for the Ge1–xSnx/CdS materials. With enhanced photoluminescence in the near-infrared region, Ge1–xSnx core/shell nanocrystals might be useful alternatives to other materials for energy capture and conversion applications and as imaging probes.
Copyright Owner
American Chemical Society
File Format
application/pdf
Citation Information
Brett W. Boote, Long Men, Himashi P. Andaraarachchi, Ujjal Bhattacharjee, et al.. "Germanium–Tin/Cadmium Sulfide Core/Shell Nanocrystals with Enhanced Near-Infrared Photoluminescence"
Chemistry of Materials
Vol. 29 Iss. 14 (2017) p. 6012 - 6021
Available at: http://works.bepress.com/emily-smith/40/