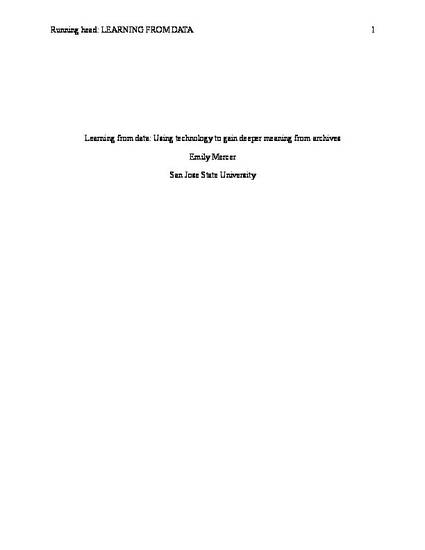 Unpublished Paper
Learning from data: Using technology to gain deeper meaning from archives
(2018)
Abstract
With a proliferation of information in the 21st century, new tools are necessary for deriving
meaning from the information in archival repositories and recordkeeping programs. With
embracing distant learning techniques such as data and text mining, and visualization projects
archivists, records managers, and researchers can learn in a deeper way. Examining archival
tradition and more recent Archives 2.0 initiatives, this essay posits that this meaningful learning
best occurs by embracing new technology. Only then will the ideals of interactivity and
decentralized authority be realized.
Keywords
data analytics,
distant reading,
interoperability,
collaboration,
archives,
records management
Publication Date
Fall 2018
Citation Information
Emily Mercer. "Learning from data: Using technology to gain deeper meaning from archives" (2018)
Available at: http://works.bepress.com/emily-mercer/1/
Creative Commons License
This work is licensed under a Creative Commons CC_BY-NC International License.