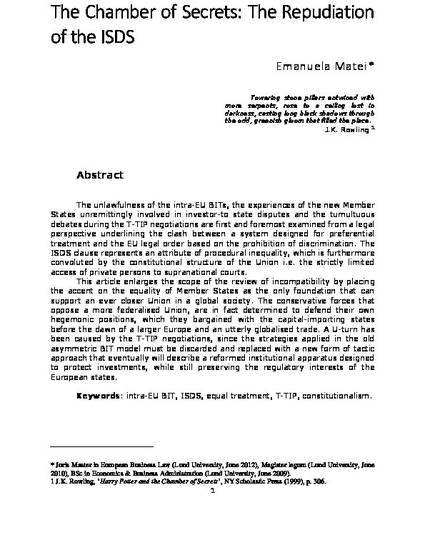 Article
The Chamber of Secrets: The Repudiation of the ISDS
Revista Română de Drept European (2015)
Abstract
The unlawfulness of the intra-EU BITs, the experiences of the new Member States unremittingly involved in investor-to state disputes and the tumultuous debates during the T-TIP negotiations are first and foremost examined from a legal perspective underlining the clash between a system designed for preferential treatment and the EU legal order based on the prohibition of discrimination. The ISDS clause represents an attribute of procedural inequality, which is furthermore convoluted by the constitutional structure of the Union i.e. the strictly limited access of private persons to supranational courts. This article enlarges the scope of the review of incompatibility by placing the accent on the equality of Member States as the only foundation that can support an ever closer Union in a global society. The conservative forces that oppose a more federalised Union, are in fact determined to defend their own hegemonic positions, which they bargained with the capital-importing states before the dawn of a larger Europe and a limitless globalised trade. A U-turn has been caused by the T-TIP negotiations, since the strategies applied in the old asymmetric BIT model must be discarded and replaced with a new form of tactic approach that eventually will describe a new institutional apparatus designed to protect investments, while still preserving the regulatory interests of the European states.
Keywords
intra-EU BIT,
ISDS,
equal treatment,
T-TIP,
constitutionalism.
Publication Date
Summer July 22, 2015
Citation Information
Emanuela A Matei. "The Chamber of Secrets: The Repudiation of the ISDS"
Revista Română de Drept European
Iss. 4 (2015)
Available at: http://works.bepress.com/emanuela_matei/5/